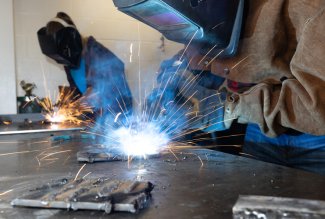 The Don Wood Foundation has awarded Ohio Northern University's (ONU) T.J. Smull College of Engineering a grant to develop a new advanced metals laboratory to prepare students for careers in advanced manufacturing and to prepare graduates to meet the needs of regional manufacturing companies. In honor of this investment in the University, the new lab will be named the Don Wood Foundation Advanced Metal Technology Lab and is anticipated to open in fall 2024.
 
The Fort Wayne private foundation is dedicated to the advancement of manufacturing, entrepreneurship, and related education in the Midwest. Its $1.05 million grant will allow ONU to add a state-of-the-art metals lab to supplement its already-strong machine shop. Additions will include a 3D metal printer, laser cutting machine, a laser welder and associated manufacturing tools. Students will use the equipment for coursework and projects, including senior-level capstone design projects.
 
"Very few undergraduate engineering programs have access to this state-of-the-art equipment," said J-D Yoder, dean of the T.J. Smull College of Engineering. "This will be a tremendous asset for our students in developing career-ready skills. It will also allow us to provide expertise and assistance to industry in the region by partnering on real-world metals projects to assist in their manufacturing."
 
"The foundation is proud to partner with Ohio Northern University on this investment," said Don Wood Foundation President and CEO Laura Macknick. "The equipment in this laboratory is critical to the Northeast Indiana and Northwest Ohio regions, with many manufacturers focused on metals. ONU's campus is close to Allen County, Indiana, and surrounding communities and can aid in meeting the demand for high-quality, hands-on engineering education."
 
"We're extremely grateful for the generosity of The Don Wood Foundation," said ONU President Melissa J. Baumann, Ph.D. "It was clear from the start that we have a similar mission, shared values, and a commitment to developing a career-ready workforce. This award recognizes the quality and outcomes of our engineering program and we are gratified that the foundation is investing in the educational experience of engineering students while also meeting the region's workforce needs."
 
Regularly ranked as one of the top undergraduate engineering programs in the country, ONU's T.J. Smull College of Engineering offers programs in Civil Engineering, Computer Engineering, Computer Science, Electrical Engineering, Engineering Education and Mechanical Engineering. 
 
###
 
The Don Wood Foundation
The Don Wood Foundation is a private foundation established in 2018 by Don Wood, founder of 80/20, Inc., that serves and supports innovators, leaders, collaborators, and skilled workers with the potential to create and sustain opportunities in manufacturing. The Foundation partners with nonprofits and educational institutions to provide sustained investment that supports the development of a diverse workforce through exposure, education, and training to create strong communities rooted in the advancement of manufacturing. For more information, please visit DonWoodFoundation.org.
 
Ohio Northern University
Located in Northwest Ohio, Ohio Northern University is a private, United Methodist Church-affiliated institution that offers distinctive, nationally recognized programs of study that prepare students to lead, excel and serve throughout the world. Its mutually supporting liberal and professional education components integrate practice with theory, and are complemented by excellent co-curricular and high-impact experiential offerings that enrich the Northern experience. Approximately 3,000 students are enrolled this 2023-24 academic year in the more than 60 undergraduate and graduate programs offered within the colleges of Arts & Sciences, Pharmacy, Engineering, Business Administration and Law. In 2023, ONU graduates enjoyed a 96% placement rate in full-time jobs and graduate school admissions. Ohio Northern and its academic programs are consistently ranked as being among the best in the region, state and nation by entities such as the Wall Street Journal and U.S. News & World Report. To learn more about Ohio Northern University, visit www.onu.edu.