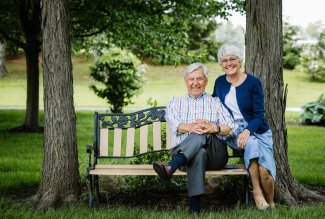 Ohio Northern University President Emeritus Daniel A. DiBiasio, Ph.D. (Hon.D. '22), and former First Lady Chris Burns-DiBiasio (Hon. '22) have established an endowed scholarship for ONU students who intend to pursue teaching careers.
 
With the Daniel A. DiBiasio and Chris Burns-DiBiasio Endowed Scholarship, the couple honor the value of teaching excellence, the tradition of educators in their families, and their shared dedication to transforming lives through higher education.
 
 "Chris and I are excited about being able to provide much-needed financial support to students who are committed to entering such an admirable and essential profession," says DiBiasio. "There are few careers that are more important than teaching."
 
"Ohio Northern University, particularly its students, will always be near and dear to our hearts," says Burns-DiBiasio. "Given that education has always been a huge part of our lives, establishing an endowed scholarship that will further encourage already-outstanding individuals to be caring and innovative leaders in the education field is a dream come true."
 
"The DiBiasios' decision to create an endowed scholarship is so in keeping with who they are as champions of education and as a couple who clearly cares about others," says President Melissa J. Baumann, Ph.D. "They have already left a significant imprint on ONU over the years through their visionary work, service and kindness. Our community, particularly our students, will always be grateful to them."
 
The DiBiasios' legacy, developed within academia, exemplifies higher education's capacity to elevate.
 
President Emeritus DiBiasio served in higher education for 45 years, including 11 years at ONU as its 11th president. While at ONU, Burns-DiBiasio participated in a variety of leadership and service initiatives, not only on campus but within Ada and the communities in the surrounding counties. They both held positions at Rocky Mountain College, the University of New Hampshire and The Ohio State University. Also, before coming to Ohio Northern, they served as the president and first lady of Wilmington College for 16 years.
 
The DiBiasios share a deeply held belief that supporting teaching excellence is essential to helping every student at every level gain knowledge and acquire skills necessary for full participation in the promise of American democracy.
 
In their personal and public lives, the DiBiasios have always embodied the values that lie at the heart of Ohio Northern University, including high-impact learning, service, civic engagement and faith. During DiBiasio's tenure, numerous campus spaces were created to encourage collaborative knowledge acquisition, to enhance emerging educational opportunities and to support extracurricular activities. Some of those updates during the couple's tenure included construction of the James Lehr Kennedy Engineering Building, the launch of the Institute for Civics and Public Policy, ONU HealthWise mobile clinic's establishment and the implementation of J-Term to expand student opportunities for immersive learning and global travel over winter break.
 
Shannon Spencer, vice president for advancement, characterizes the DiBiasios' gift as a pay-it-forward action with generative impact. "Helping students to become teachers will, in turn, help others learn and succeed," she notes. "This epitomizes the goals of our current Forward Together campaign, which seeks to secure a bright and productive future for our Polar Bears."
 
In establishing this scholarship, the DiBiasios honor more than 25 family members across three generations who have served or currently serve as educators, including their sons Matthew and Michael, daughter-in-law Devon, Dan's brother Tony and especially their fathers: Anthony J. "Tony" DiBiasio, who enjoyed a legendary career in the Lakewood Public Schools in Lakewood, Ohio; and Dr. Stanley L. Burns, who was a highly regarded and acclaimed professor of medicine at the University of Vermont College of Medicine.