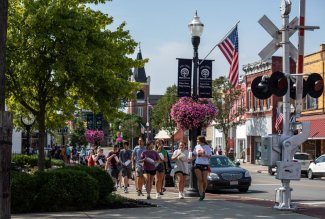 The Ada Town and Gown Association is accepting nominations for Distinguished Citizen of the Year for both 2021 and 2020. As it did last year, the organization will forego a banquet due to COVID-19 concerns.
The honor of Distinguished Citizen of the Year is given to an individual, nominated by fellow citizens, who goes above and beyond what is required in the areas of accomplishment and civic involvement. Nominees have improved the quality of the Ada community and have made strides to make Ada and ONU a place of pride. The nominee may be a community leader, or even a "silent server" in the community who often will forego personal recognition in the interest of making a difference in their community and the lives of others.
The Town and Gown webpage includes specific nomination guidelines and the nomination form.
The nomination deadline is Friday, Nov. 12.
Recent award recipients include Bill and Beth Ann Bass in 2019, Bryan Marshall in 2018, and Connie Fleming in 2017.
The Town and Gown Association was established in 1957 by a group of townspeople and ONU personnel to develop and maintain a strong positive relationship between the village of Ada and Ohio Northern.