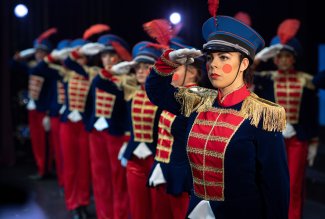 The School of Visual and Performing Arts at Ohio Northern University continues the beloved annual tradition of The ONU Holiday Spectacular. Celebrating 27 years, this showcase of traditional carols and festive favorites will be performed in song and dance by everyone's best-loved characters.
Performances will be held at the Freed Center for the Performing Arts at Ohio Northern University on Nov. 17 -19 at 7:30 p.m., and Nov. 19 at 2 p.m., and at Veterans Memorial Civic and Convention Center in Lima on Dec. 2-3 at 7:30 p.m. and Dec. 3-4 at 2 p.m. The performances are made possible with underwriting from Kewpee Hamburgers and the DeBow and Catherine Freed Endowment for the Performing Arts.
For the Ada performances, reserved-seating tickets can be purchased online at www.FreedCenter.com, by phone at 419-772-1900 or in person at the Freed Center Box Office, Monday through Friday, 12 p.m. to 5 p.m. Adult tickets are $20 with discounts for ONU faculty and staff ($15), senior citizens ($10), and $5 tickets for students and children. General admission tickets for the Lima showings are available for purchase at all Kewpee Hamburgers locations for $5 each.
Directed by ONU's resident artist and instructor of music Kirsten Osbun-Manley, with music direction by Michael Jordan and choreography by Gina Wiley, the cast of almost 60 performers includes three dozen student artists from Ohio Northern University and nearly two dozen area youth from Lima, Delphos, Ada, Elida, Ft. Jennings and Wapakoneta. Featured characters include Santa and Mrs. Claus played by Shawn Stevens (Lima) and Camryn Lamontagne (Austin, Texas); their elves Trixel and Tinsel portrayed by Juliana Tate Kelly (Cleveland) and Caleb Jingo (Westerville); along with Frosty and the Grinch by Ren Gleason (Avon); Rockette, Gabrielle Mouch (Cincinnati); Polar Bear, Selah Schertz (Morton, Ill.); and Angel, Emily Signor (Reisterstown, Md.).
The show's male ensemble includes Jacob Bassit (Ada), Nick Beiser (Medina), Grant Bell (Brunswick), Brady Griffin (Rochester, N.Y.), Andrew Holdsworth (Parma Heights), Gavin Hull (Ontario), CJ Miller (Findlay) and Zachary Ryan (Westerville); while the female ensemble is comprised of Reagan Curry (Pittsburgh, Pa.), Olivia Gierke (Toledo), Miranda Keller (Columbia Station), Carina Milano (Chicago, Ill.), Gabrielle Mouch, Selah Schertz (Morton, Ill.), Pyper Sharkins (West Milton) and Emily Signor.
The dance corps includes Molly Beth Blanchard (Baton Rouge, La.), Isabelle Fisher (Columbus), Madeline Fisher (Columbus), Sydney Mistretta (Baton Rouge, La.), Katja Roberts ( St. Petersburg, Fla.) and Kylyn Schadewald (Lima). The show's understudies are Zavier Alterio (Mansfield), Morgan Francis (Austin, Texas), Matthew Garcia (Mentor), Ren Gleason, Armani Ponder-Keith (Macomb, Mich.) and Elena Rosales (Frisco, Texas).
Youth joining the cast are Allison Ambroza, Addilynn Baldauf, Kendalynn Bourk, Raella Calvelage, Clara Chongson, Lily Emerick, Lila Fay, Scarlett Fittro, Madelyn Haehn, Quinn Hazelton, Lila Jackson, Abbie Kaye, Taylor Liebrecht, Ella Luke, Emma Mackey, Lily Mears, Kolbi Moell, Grace Moenter, Jency Moore, Abram Padiniarethala, Lahna Savill, Graham Trueblood and Olivia Trueblood.
Providing the live instrumental music, orchestra members consist of keyboardists Michael Jordan and Ryan Neal; Sophie Wohl on violin; Joel Hazard, bass; Andrew Liebermann and Jason Yost, saxophone; Shay Bolton, percussion; Alfred Lewis Jones, drums; Austin Friess, trombone; and on trumpet are Ric Wolkins, Dave Kosmyna and Gus Shoemaker.
Complimenting The ONU Holiday Spectacular's original scenic and costume designs by Kurt Sharp and Cathy Smalley, this year's guest designers include Jill Davis, scenic designer; Ameera Ansari, costume designer; Lynda Matusek, lighting designer; and Harrison Heinig, sound designer.
Other production team members include Brian Sage as producer; Kathleen E. DeVault, production manager; Brian Phillips, technical director; Rachel Heinig, production stage manager; Elynmarie Kazle, stage manager mentor; Rachel Boyle and Hayley Shock, assistant stage managers; Lloyd Butler and Michael Jordan, orchestrations and arrangements; Carina Milano and Zachary Ryan, dance captains; and Grace Bissonette, Sara Moore, Jessica Sanders and Meghan Steffy as young performer supervisors.
For more information about The ONU Holiday Spectacular or other events in the Freed Center's 2022-2023 Season, visit www.FreedCenter.com or call the Box Office at 419-772-1900 to receive a season brochure.