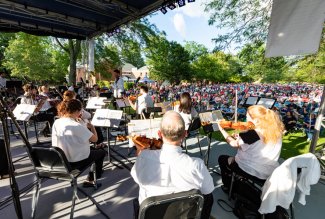 ADA, Ohio – Summer evening musical bliss is in store for Ohio Northern University's 7th annual Patriotic Pops concert, which will be held Saturday, July 2 at 7 p.m. The free, outdoor Independence Day celebration will take place in front of McIntosh Center.
 
The family-friendly Patriotic Pops event will feature classic patriotic music, selections from popular tunes and a tribute to our armed forces. Beloved classics such as Tchaikovsky's "1812 Overture" along with a suite of selections from the "Star Wars" movie trilogy and a "Michael Jackson Spectacular" will be performed.
 
Along with chairs and blankets, don't forget to bring a bite to eat! For a convenient and delicious picnic option, The Inn at Ohio Northern University is offering pre-ordered boxed meals for $13 each. Menu selections include ham and cheese, turkey and cheese, or veggie wraps. All boxed lunches include house-made kettle chips, condiments, and a bottle of water. Advanced orders are required by July 1 at 5 p.m. Please call 419-772-4266 or 419-772-4112.
 
LSO Music Director Andrew Crust will be conducting. Crust, an award-winning musician who also serves as the associate conductor of the Vancouver Symphony in Canada, has developed a versatile international career as a conductor of orchestral, opera, ballet and pops programs.
 
In case of inclement weather, "Patriotic Pops" will be held in King Horn Sports Center on campus, 609 W. Lincoln Ave. Doors will open at 6 p.m. Concert goers are welcome to bring chairs and picnic food inside. Current CDC COVID-19 safety guidelines for indoor events will be followed.
 
The musical lineup is as follows:
"Star Spangled Banner" by John Stafford Smith
"Stars and Stripes Forever" by John Philip Sousa, arranged by Leopold Stokowski
"Washington Post March" by Sousa
"Colonel Bogey March" by Kenneth J. Alford
"America the Beautiful" by Samuel A. Ward
"Armed Forces Salute" arranged by Bob Lowden
"Hang On Sloopy" arranged by Ester Alessandrini
"Michael Jackson Spectacular" by Michael Jackson, arranged by Steven Rosenhaus
"William Tell Overture" by Gioachino Rossini
"Fanfare for the Common Man" by Aaron Copland
"Variations on a Shaker Melody" by Copland
"Hoe-Down" from "Rodeo" by Copland
"Fiddle Faddle" by Leroy Anderson
"Star Wars Suite" by John Williams
"1812 Overture" by Pyotr Ilyitch Tchaikovsky
 
"Patriotic Pops" is sponsored by Quest Federal Credit Union, White's Honda Toyota of Lima, Liberty National Bank, Vancrest of Ada, Village of Ada, Haushalter Family Foundation, Community Markets, Connie O. Fleming, Hanson-Neely-Allison Funeral & Cremation Services, Hardin County Chamber and Business Alliance, The Rogers Agency, Ada Kiwanis Club, Ada area Chamber of Commerce, Roger and Julie Crowe, and Carol Slane Florist.