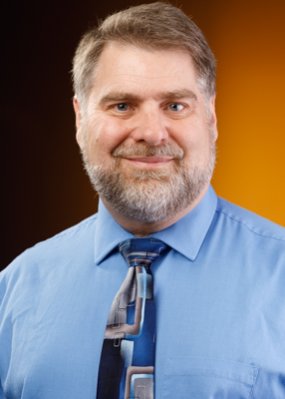 Employee degree:
BS, The University of Toledo
MS, University of Illinois Urbana
PHD, University of Illinois Urbana
Biography
Dr. John K. Estell is Professor of Computer Engineering and Computer Science at Ohio Northern University, where he teaches first-year programming and user interface design courses. He earned his BSCSE in computer science and engineering from The University of Toledo and both his MS and PhD in computer science from the University of Illinois at Urbana-Champaign. He believes that effective learning occurs when students are provided with active, hands-on experiences that tie real-world practice with theory. Much of his current research involves design education pedagogy, including applying the entrepreneurial mindset to first-year programming projects by developing educational software applications for real-world clients, and streamlining outcomes assessment processes.
Service to others plays a large role in his life; currently, Dr. Estell is a member of the American Society for Engineering Education (ASEE) Board of Directors as Chair of the Professional Interest Council (PIC) III. He has previously held multiple ASEE leadership positions within the First-Year Programs and Computers in Education divisions, and with the Interdivisional Cooperation and Interdivisional Town Hall Committees. Dr. Estell is also active within the Accreditation Board for Engineering and Technology (ABET), currently serving as a Commissioner and as an Accreditation Council Training subcommittee chair. He previously served a three-year term on ABET's Computing Accreditation Commission (CAC) Executive Committee and was Chair of the CAC Training Committee during those years. Dr. Estell is a co-founder and Vice President of The Pledge of the Computing Professional, an organization promoting the notion of computing as a recognized profession at the time of graduation for students in computing-related programs. 
Dr. Estell was elected in 2016 as a Fellow of ASEE in recognition of the breadth, richness, and quality of his contributions to the betterment of engineering education. He has received multiple ASEE Annual Conference Best Paper awards from the Computers in Education, First-Year Programs, and Design in Engineering Education Divisions. He has also been recognized by ASEE as the recipient of the 2005 Merl K. Miller Award and by the Kern Entrepreneurial Engineering Network (KEEN) with the 2018 ASEE Best Card Award. Dr. Estell received the First-Year Programs Division's Distinguished Service Award in 2019.