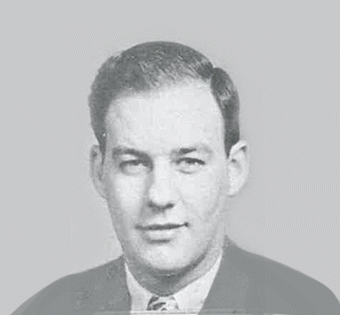 William "Bill" Powell enrolled at Ohio Northern in 1941 only to have his education derailed by World War II. He joined the Army Air Corp and flew B-24s in the European theatre until his plane was shot down over Munich, Germany in 1944. Journalist Brad Hoopes chronicled Powell's 10th and final mission:
"After dropping their bombs on the rail yards in Munich, the formation began their return to base. At this point, Bill turned the controls over to his co-pilot and stood up to stretch. While doing so, he looked out the window and saw two bombs fall from above and hit the lead plane in the formation. (Bill surmises that the bombs got hung up in another plane during the initial bombing and finally came loose.) Shrapnel from the exploding plane tore into his plane, killing his co-pilot instantly. Bill himself would have been killed as well had he not stood up, as shrapnel blew away his headrest. Grabbing the controls, with two engines out and having a hard time handling the plane, Bill realized that they would never make it back over the Alps and gave the order to bail out. Upon hitting the ground, Bill had no sooner started taking off his parachute when a German farmer was upon him with pistol drawn."
Powell spent the remaining months of the war in Stalag Luft 1 until the camp was liberated by the Russians in May of 1945. Upon his return to the states, he continued his education at ONU and graduated with a degree in civil engineering in 1947. He secured a job in Miami, Florida, on a county surveying crew and rose through the ranks over the next 38 years to eventually retire as director of public works for Miami Dade County in 1986. In recognition for his decades of service, the county named the bridge that connects Miami to Key Biscayne, the William M. Powell Bridge in his honor.