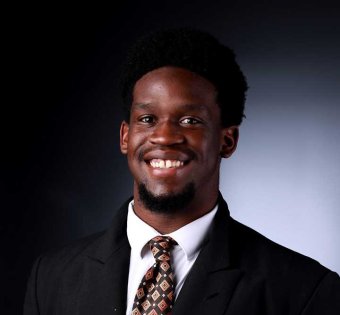 Next step: accounting career
When Xavier Williams took his first accounting class in high school, he had no idea he would be pursuing a professional career in accounting a few years later. Being a student at Ohio Northern University not only put him on the path toward a successful career, but fostered his passions and led to lasting relationships that have complemented his academic studies.
Why did Williams choose ONU? Ohio Northern's high job placement rate was appealing to him, and the fact that he could continue to play football while in college clinched the deal. He entered ONU with some college credit he'd earned through his high school accounting classes, which gave him a head start in the Dicke College of Business Administration.
He quickly found that there were ample opportunities at ONU to get involved in his passions aside from business. He was the President of Brother 2 Brother student organization, and was a member of the Beta Alpha Psi Academic Fraternity, the Black Student Union, and the Gospel Ensemble. He also became an orientation leader and a Good News Bear College Coordinator, and a student ambassador.
Just like working professionals value work-life balance, Williams appreciated being able to strike a fine balance between preparing for his future career and doing extracurricular activities he enjoyed. It was through these activities that he made some of his best college memories – playing and then coaching on the ONU football team, cheering from the student section during basketball games, witnessing positive change and support for diversity and inclusion through the ONU Unity series.
On the academic side, he found the accounting program to be top-notch for a number of reasons. The networking opportunities Williams took part in, such as connecting with Big Four accounting firms during the Meet the Firms event, allowed him to refine his networking skills and learn about different accounting companies and what they have to offer.
"When you tell employers you graduated from ONU, that just puts you above the other candidates," he says. "Additionally, the faculty are here for you. They give you their number if you have a question about a problem or just need to talk. All of the professors have worked in higher-profile companies and experienced it before teaching."
To prospective students considering the accounting program, Williams offers this advice:
"It will be worth it in the end. Being an accounting major or any of the majors in the College of Business, you can't go wrong. All majors are in high demand in the real world."