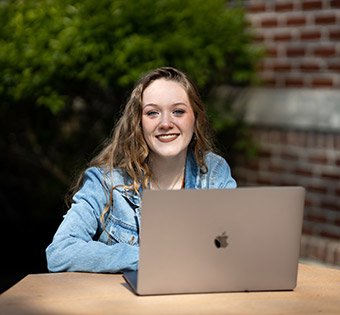 Next step: writing career
Storm Matthews is a storyteller at heart. An avid reader and writer, she penned her first novel in the fifth grade. At ONU, she majored in creative writing and uncovered the many directions her storytelling passion could take her.
"Coming into ONU, my mind was on nothing but becoming an author. I wanted to write books and that's it. Throughout my experiences at Northern, I had my eyes opened to the plethora of possibilities I could try as well," she said.
From publishing to theatre to bookstores, Matthews immersed herself in possibilities. She wrote a futuristic short story that was published in the special sesquicentennial edition of ONU Magazine. She interned during the summer at a small independent bookstore in Perrysburg, Ohio, that's owned by the wife of an ONU theatre professor. "I learned a lot from this internship about bookstores, the publishing industry and small businesses in general," she said.
Additionally, she was a work-study student in ONU's theatre department, giving her a thespian's perspective on storytelling. And, her favorite activity, she served as co-editor-in-chief of ONU's undergraduate literary magazine, Polaris. In this role, she reviewed and edited creative writing submissions from all across the country and helped with the magazine's production process from start to finish.
ONU's blend of abundant opportunities and personalized attention enabled Matthews to thrive.
"Being at ONU gave me the opportunity to engage with all of my passions on my terms," she said. "The English Department is filled with some of the most understanding and supportive people I've ever met. The majors get really close to each other and have very strong bonds with the professors. If you want to feel connected and cared for, ONU English is the way to go."