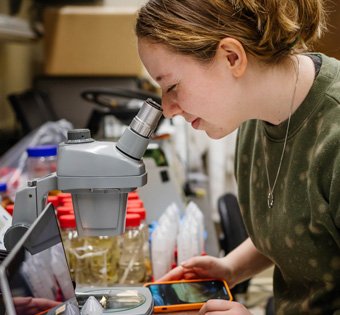 Olivia "Liv" Spallinger wants to make a difference, and that's why she plans to become a teacher. From inspiring her future students to love science, to helping those with disabilities, she has big goals—and ONU is showing her how to achieve them.
"Helping students with disabilities is a major passion of mine because I am one myself," she explains. Liv has a genetic condition called Ehlers-Danlos Syndrome (EDS) that affects the connective tissue in her skin, joints and blood vessels. Her condition makes it difficult for her to live on campus, so she commutes from her home in Bluffton, Ohio.
Being a student worker in ONU's Office of Multicultural Development (OMD) has given Liv a voice, and she is using it to show ONU ways that it can make not just its classrooms, but also its residence halls more disability friendly.
She recently worked on a special OMD and University Archives project called Diverse Voices that seeks to gather and preserve more primary sources from underrepresented individuals and groups on campus over the years. She was amazed to find out about ONU's Black Student Union and its struggle to find a home on campus. "The biggest thing I learned was that eventually ONU will listen," she says. "They (BSU) went through so many hardships and now they have a beautiful home in Affinity, an amazing work family and endless support."
During her first year at ONU, Liv was injured on a roller coaster. She dislocated both her hips which caused severe nerve damage and paraparesis. Unable to feel anything from her belly button down, she spent three weeks in the hospital. She then underwent weeks of rigorous physical therapy—3-4 hours a day—while doing online classes. Today, she continues her physical therapy on ONU's campus and is well on the road to recovery.
While she was in the hospital, two of her ONU professors came to visit her. Their care, concern and passion for teaching is what cemented her decision to be a high school biology teacher someday. "It shows that professors here actually care," she says. "When my professors came to visit, it felt just like friends coming to visit. That's what ONU is; you don't have professors who are just there, they become your friends and family."
Liv is confident that through her many diverse experiences at ONU, she is transforming into the teacher and person she wants to be. "I am proud to be an ONU student because of the school's reputation," she says. "It's known to be a high-quality university with difficult classes, so it makes me proud to say that I am succeeding here."