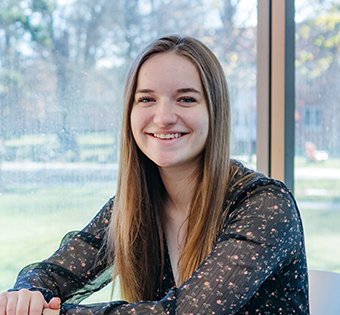 Psychology major immerses herself in research
When she realized she wanted to major in psychology, Mercedes Stanek looked for a college that would give her solid research experience.
"With research being such a large focus of the university, ONU was the perfect place to pursue my passion," she says, adding that she has a concentration in behavioral neuroscience and a minor in applied statistics.
As it turns out, the size of the university has also been a huge benefit.
"The small class sizes have allowed me to build a close relationship with my professors, which has helped me immensely," Mercedes explains. "At ONU, each student is important."
While growing up in Mentor, Ohio, Mercedes received a lot of support from her parents for her interests.
"They always encouraged me to pursue my love for learning," she notes. "They would help me do science experiments, got me a telescope to look at the stars, and encouraged me to study whatever I desired."
After graduation, Mercedes plans to pursue a Ph.D. in neuropsychology.
"I always wanted to help people, and I have always been fascinated by human behavior," she says. "Majoring in psychology allows me to combine both."
Very focused, Mercedes has received the Presidential Scholarship and the Distinguished Achievement Award in Psychology.
Also, since freshman year, she has been an assistant in Dr. Phil Zoladz's Human Subjects Behavioral Neuroscience Research Lab.
"I was able to explore how stress impacts learning and memory," Mercedes explains. "It is similar to what I will be doing in graduate school, as well as for my career. Additionally, I will be going to the annual conference of the Society for Neuroscience in San Diego which will give me more experience and networking opportunities."
Mercedes is grateful for the many experiences that ONU has provided.
"I presented my research study at the annual convention for the Association for Psychological Science in Chicago last summer," she says. "During my sophomore year, I conducted my own study on the reliability of memory while witnessing a crime. I also had the privilege of presenting a poster entitled 'Collaborating on Recall Enhances Accuracy for Auditorily Experienced, but Not Visually Experienced Witnessed Events' at the conference. This really helped further my research career and network within my field."
She wants high school students interested in psychology to be aware of all ONU has to offer.
"The psychology faculty are extremely welcoming and are there to help you," she notes. "The opportunities are unique. ONU's spotlight on research allowed me to have opportunities not many other universities provide to their undergraduate students."