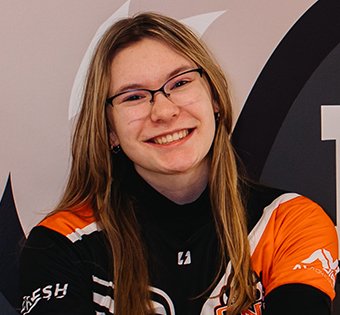 Taking a chance on esports 
From a young age, Maria Lyons enjoyed tinkering with technology, computers and video games. "I always liked being creative and building new things while taking others apart just because I was curious," she says.
At ONU, this computer science major from Toledo, Ohio, has found the perfect university for her inquisitive mind and adventurous spirit. She participates in the esports program, the ONU marching band, the honors program, and the Phi Sigma Rho sorority, just to name a few.
"ONU truly gave me a home where I can share my passions with other people, including those who have the same passions as me," she says. "I live my life finding new interests and experiences that enrich my life."
Maria recounts that one day she was walking through McIntosh Center and spotted an esports booth. The esports director asked her: "Do you game?" She replied, "Yeah, I play Overwatch." And that exchange prompted her to try out and land a spot on ONU's varsity esports team.
Overwatch is a futuristic, multiplayer strategy game. Since joining the team, Maria has reached one of the highest ranks in the game. She finds that gaming helps her relax while teaching her life skills.
"Sure, I'm learning about how to competitively play Overwatch, but I'm also developing discipline, time management and perseverance."
She also found new friendships with players inside and outside ONU. "There has never been a moment in the esports room where there isn't enjoyment," she says. "The people I have met have made me laugh and given me memories that will last a lifetime."
In the T.J. Smull College of Engineering, Maria is excelling in the computer science program. She credits the small class sizes and professors who are passionate about helping students succeed.
"Before arriving at ONU, I had absolutely no experience or training in programming. I was a blank slate," she says. "However, I learned a substantial amount of information on how to code with the support of my professors, despite it being a new and foreign topic for me."
Maria encourages fellow students to "dip their toes" into new experiences, just like she has done.
"It's frightening, but after you take the plunge into a new organization, major, or club, it could be one of the best decisions you've ever made," she points out. "I did that with esports. It changed my life!"