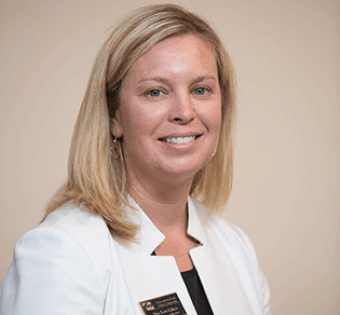 A third-generation owner of the Burgett family's group of companies, Lori (Burgett) Gillett, BSCE '96, has more than 25 years of experience under her belt with Kokosing. She's worked as a project engineer, estimator, business development manager and a leader in all market sectors. She was elected CEO of Corna Kokosing in July 2019, becoming the first female CEO in the history of the 63-year-old Columbus-based commercial construction company.
When she turned 40, she made a decision – she was going to lift up women in her line of work.
"Research shows that if a woman sees a job or a board opening, she will only apply if she meets all of the requirements. At the same time, a man will look at the same position and typically apply even if he meets only 60 percent of the same requirements," she says. "Women are choosing to limit themselves. This happens across all industries. I am determined to be a part of the solution to this problem."
One of the ways she has done so is by co-founding the Women's Ideas and Strategies Exchange (WISE) program at her company, a mentorship program that brings female construction team members together to share experiences and knowledge for personal growth and professional transformation. Also, she currently serves on the Ohio Northern University Engineering Advisory Board and Ohio's Executive Workforce Development Board. In all these roles, she's passionate about cultivating the next generation of leaders and building a network of mutual support for women in engineering.