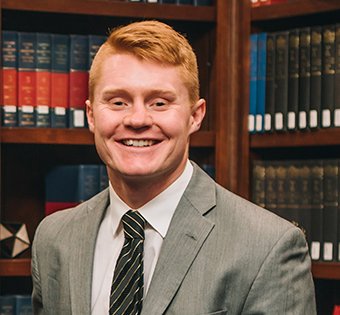 Law student becoming the best version of himself, thanks to scholarship support
Logan Hughes is motivated to become the best version of himself both professionally and personally. "My parents and uncles never let me settle," he says. "There is always room to grow."
Every day in the Pettit College of Law, this law student from Meeker, Colo., is soaking up knowledge and taking advantage of every opportunity for growth that comes his way. And, he adds, he's learning from some of the most intelligent people he's ever met.
"No matter who you are or what you know, there is something you can learn just by being involved in this culture (at ONU Law). I never thought I would be the person I am today, before coming to ONU. One year of law school and I feel as if I have identified the person I want to become. This university has just shown me that I am capable of much more than I originally thought."
Logan chose ONU Law because of scholarship support and the fact that the University allowed him to use his last year of eligibility to play on the Polar Bear football team. Before law school, he obtained a sports management degree from Nebraska Wesleyan University.
At ONU, Logan is involved in the ONU Law Review and the ONU Sports Law Society, where he spearheaded bringing the first sports law speaker to campus. Last summer, he also interned for the Alternate Defense Council in Colorado, helping defense attorneys with criminal defense cases from beginning to end.
He says his path toward a legal education was only made possible by the scholarships set up by generous donors from the past. These include the ONU Law Merit Scholarship, the Judge Anthony A. Alaimo Scholarship, and the Carl F. & Clara E. Klein Scholarship. 
"I want scholarship donors to know that they should feel very confident that the gift they have given me will never be forgotten and has instilled in me a passion that will fuel my entire career," he says. "I cannot wait to use my services to help give back to not only my family, but everyone who has helped me get to where I am today."