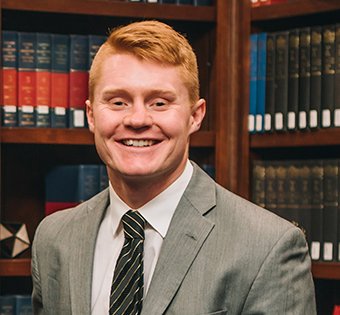 Law student receives Moyer Fellowship
Logan Hughes is motivated to become the best version of himself both professionally and personally. "My parents and uncles never let me settle," he says. "There is always room to grow."
Every day in the Pettit College of Law, this law student from Meeker, Colo., is soaking up knowledge and taking advantage of every opportunity for growth that comes his way. Recently, he received an incredible opportunity for summer 2023–a Moyer Fellowship.
The Moyer Fellowship is a highly prestigious award that enables a handful of select Ohio law students to spend their summer researching a cutting-edge legal issue," says Rick Bales, ONU professor of law.
"Logan's research will try to answer the question "what is arbitration?" This is a critically important issue because the U.S Supreme Court has interpreted the Federal Arbitration Act as applying to every conceivable kind of dispute, even to "arbitration" contracts that specify procedures that look fundamentally unfair (like one side being able to appoint the arbitrator with no input from the other side)," explained Bales. "If lopsided dispute resolution procedures aren't "arbitration," they are not enforceable under the FAA."
The Moyer Fellowship Program is sponsored by the Chief Justice Thomas J. Moyer Legacy Committee of the Ohio State Bar Association with the support of the Ohio State Bar Foundation. It was established in 2012 to honor the memory of the late Chief Justice and help sustain his dedication to the administration of justice and public understanding of the law.
Hughes will receive $4,000 from the Moyer Foundation and $1,000 from ONU for his research into a discrimination case facing the NFL. Hughes' previous research on arbitration in domestic and international sports gives him a running start on the research he'll be doing for the Moyer Fellowship.
"I am very thrilled and thankful to be given this opportunity to perform a project that will advance my career. It also gives me the ability to apply a lot of what I've been learning in law school to real-world issues," says Hughes.
Hughes added that ONU Law has already opened so many doors for him. 
"I never thought I would be the person I am today, before coming to ONU. One year of law school and I feel as if I have identified the person I want to become. This university has just shown me that I am capable of much more than I originally thought."
Logan chose ONU Law because of scholarship support and the fact that the University allowed him to use his last year of eligibility to play on the Polar Bear football team. Before law school, he obtained a sports management degree from Nebraska Wesleyan University.
At ONU, he's  involved in the ONU Law Review and the ONU Sports Law Society, where he spearheaded bringing the first sports law speaker to campus. Last summer, he also interned for the Alternate Defense Council in Colorado, helping defense attorneys with criminal defense cases from beginning to end.
The support he's received from his family, ONU scholarships, and opportunities like the Moyer Fellowship, have only fueled his passion for the law.
"I cannot wait to use my services to help give back to not only my family, but everyone who has helped me get to where I am today."