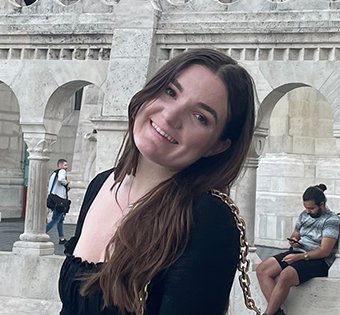 Studying abroad wasn't a difficult decision for political science major Kennedy Cook. By the time she came to ONU, she was already a seasoned traveler, having visited nearly every U.S. state and national park and even Western Europe. Not surprisingly, she was enamored by the idea of spending an entire college semester in another country. 
Kennedy's only challenge: which country should she choose? She ultimately selected Hungary because she was interested in Eastern European culture and wanted to push outside her comfort zone. "I went to a completely unseen country alone, not knowing a single person beforehand. I do not speak Hungarian and I didn't even know how to say 'hello,'" she says. "It was utterly terrifying initially, but I ended up making friends and having experiences I always dreamed about."
ONU provided Kennedy with step-by-step instructions on how to secure a study abroad opportunity, along with many financial support options, including scholarships. Kennedy attended Corvinus University, situated along the Danube River in Budapest, taking classes on topics like tourism management and Eastern European integration. While studying abroad, she also had the chance to explore six cities and regions in Hungary, as well as visit Spain, Poland, Ireland, the Czech Republic, Portugal, Estonia, Austria, Belgium and Serbia. 
Kennedy fell in love with Hungary, and decided to stay in the country after graduation in 2022. She is currently a production coordinator for UNLEASH in Budapest. "[Hungary[ has so many cities packed with charm, history and amazing food. Budapest is a very livable place with great public transportation, affordable housing, parks and access to other countries easily," she says. "It's a very student/young professional-oriented city and there is no shortage of new people to hang out with."