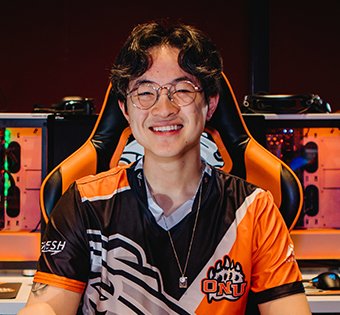 Excelling in computer science and esports
Ken Zhu was looking for a university with both a strong academic program in engineering and a competitive esports program. ONU fit the bill, he says.
From Palo Alto, California, Ken is majoring in computer science while competing in League of Legends on ONU's varsity esports team. 
An academically stellar student, he appreciates the support and encouragement he receives at Northern.
"ONU has small class sizes and intelligent professors who were hired based on their ability to teach before their research capabilities," he says. "I find that it's easy to find time to meet with professors outside of classroom hours."
The esports program director also pushes him to become the best version of himself, says Ken. 
"It's easy to assume that esports is a place where you can spend too much of your time playing video games and indulging in an unbalanced lifestyle. However, the community values excellence in academics along with esports competition," Ken says.
Through esports, Ken has grown in confidence while developing skills in leadership and teamwork.
"The program has a great community that welcomes and fosters friendships between students. I've found some of my closest friends within the program and the competition helps to motivate me to succeed in my game and academically," he says.
After graduation, Ken plans to return to California to launch a career in software engineering.
"I'm proud to be a Polar Bear," he says. "And I love having the opportunity through esports to showcase our school's greatness."