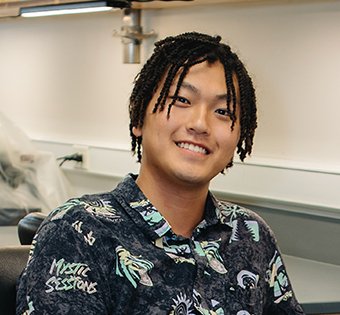 Watching law and order television shows with his mom sparked Kaname Sawaki's interest in investigating crimes.
Because most Japanese universities don't offer forensic biology programs, Kaname, who hails from Kyoto, Japan, found himself enrolling at ONU as an international student. 
"Since I was little, I wanted to go outside of my country and learn what I couldn't learn in Japan," he says. "ONU is a good college for me because ONU students are friendly and the professors support me. I play sports and I study a lot, which is satisfying." 
Kaname plays on the intramural men's volleyball team and the Black Rose rugby team. He is also involved in ONU's chapter of the Association of Future Forensic Professionals (AFFP), which recently afforded him the opportunity to travel to a professional conference in Las Vegas.
"It was my best experience at ONU," he says. "It was really wonderful to see another part of the United States that is so huge and bright!"
As a teaching assistant in ONU's forensic biology lab, Kaname is gaining hands-on experience and building strong relationships with Dr. Harold Schueler, associate professor of forensic biology, and Dr. Dennis De Luca, professor of biological sciences. 
"These professors support us a lot and work really hard for us," says Kaname.
He adds that forensic science students need to work equally as hard to succeed academically.
"Forensics is a wonderful field of study, but it is not easy. But don't worry, because science always shows the answer and how to get there. If you believe in science, it is going to believe in you."