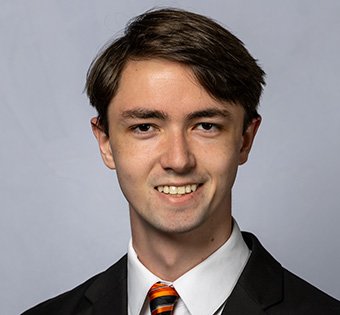 When a classroom coding assignment proved a bit rudimentary for Josh Stock and his fellow computer science majors, Dr. Stephany Coffman-Wolph upped the ante. The text-based adventure game she asked her class to create (think Zork) wasn't enough of a challenge, so she had them create an ASCII character adventure akin to the classic video game Net Hack.
It was a welcome change to the curriculum for Stock, who started writing computer programs when he was seven years old. Part of what he likes most about ONU is the attention students receive from the faculty here. It's common to hear about professors taking extra time to work with a student who might be struggling, but the inverse also happens. Professors push as much as they pull.
"All the professors here are really helpful and want us to succeed, especially Dr. Stephany. She wants us to know what we are doing, and if she sees that we do, she tries to push us to go beyond what we know," says Stock.
Sometimes it means getting out of his comfort zone, but Stock wouldn't want it any other way. He actually credits an engineering course with helping him grow the most as a student. It was the first time he accomplished a project related to something that he knew very little about beforehand. In fact, he says he had "no clue" how to do it, but the experience gave him the confidence to try new things, knowing he has the ability to learn what is required to succeed.
The Presidential Scholarship recipient and Choose Ohio First Scholar also credits Northern with providing him and his fellow students with opportunities for hands-on work that makes a difference. That spirit also fueled his desire to join Student Senate.
"We do a lot of projects within majors, and I've even worked on a few real-world type problems. For example, we worked with pharmacy students to create an app that quizzes them about their mental health in order to see if they might require counseling."
Stock has also worked on the Student Senate website and programmed lighting sequences for the Spirit of Inspiration sculpture in the James Lehr Kennedy Engineering Building, in addition to the numerous class projects he's undertaken.