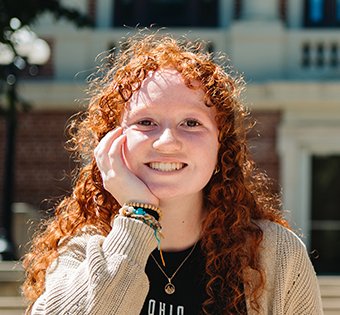 Faith Hampton knows firsthand the pain of watching a loved one struggle with Alzheimer's disease. At ONU, she's laying the groundwork for medical school, so she can one day assist Alzheimer's patients and their families. 
On the pre-med track, Faith is majoring in biology with a minor in chemistry. She plans to specialize in geriatric neurology in medical school. 
"Biology has always been an interest of mine, and medicine combines my love for the natural sciences with my desire to help other people," she says.
ONU offers exceptional preparation for medical school. Here, rigorous academics is combined with personalized support. 
Faith says that Dr. Linda Young, professor of biological sciences, has been a particularly supportive mentor and guide in her studies.
"The professors are extremely caring and always available to help," says Faith. "And with the smaller class sizes, you get to know your professors and classmates really well."
Although studying comes first, Faith still carves out time for her passions. She plays piccolo in the marching band and pans in the steel band. She serves on the Student Senate and is a Good News Bear. And, she's involved in professional and religious organizations. 
Each of these organizations allows her to show her school spirit. She especially enjoys rehearsals and performances with the ONU Steel Band.
"It is something very few other schools have and it has helped me get outside my comfort zone as I tried a totally new instrument. It taught me that you don't need to be perfect to have fun or sound good."
Faith describes herself as a proud Polar Bear. 
"ONU does a fantastic job of nurturing students not just academically, but also professionally, mentally, emotionally and spiritually. I've never once felt like just a number here, and I'm proud to be at a place where I feel like my voice is heard."