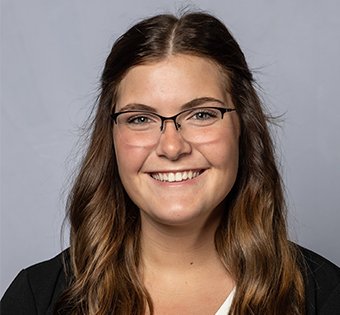 Finance major values the opportunities at ONU
Though Emma Biller began her first year at ONU majoring in pharmacy, she decided to switch to finance.
"It made sense because I have always been very data driven," she says. "I also am enthusiastic about personal finance. It is nice to have the opportunity to do that throughout my career if I choose."
After an internship with Marathon Petroleum Corporation in Findlay during the summer, Emma looks forward to working in corporate finance.
"I never imagined myself in the corporate world, but after my internship, that is where I see myself in the future," she says.
Being from Vanlue, Ohio, made Emma feel right at home upon arriving in Ada. "I love the small-town feel because I grew up in a small town. I also love the small classes because I have been able to build relationships with my classmates, the faculty and the staff.
And she values the opportunities the university has given her.
"One experience that has helped me grow is the Student Investment Group I was accepted into last spring," Emma shares. "Having the opportunity to run an investment portfolio with my peers and our advisor is incredibly special. My knowledge of investments has grown immensely because I have worked hands-on in the stock market."
Emma believes the real-world examples used in the classroom and the career fairs and events help introduce students to their eventual work lives.
"I feel prepared," she says, adding that she has a message to share with students interested in ONU's Dicke College of Business Administration.
"The finance program is very strong," she says. "For one thing, you get exposure to various aspects of the field. In your core classes, you will learn about investments, international finance, corporate finance, personal finance and so much more. Also, each student must do an internship, which is a wonderful way to apply the knowledge you are learning as well as get real-world experience."
Emma also has real-world insight to share with students interested in ONU.
"I would tell them to be prepared to work hard but also that the hard work will pay off. You are held to ambitious standards, but this university and this program will take you far."