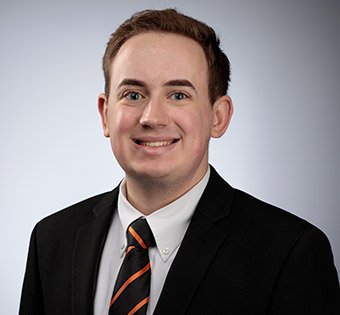 Have you ever felt like you are just faking your way through life, and that at any moment someone is going to call you out? If so, you are part of the 70 percent of society who have experienced imposter phenomenon – a psychological pattern where an individual doubts their skills, talents or accomplishments and has a persistent internalized fear of being exposed as a "fraud."
Pharmacy student Dylan McWilliams knows of imposter phenomenon (IP) better than most, having conducted qualitative research on the topic with Dr. Jessica Hinson, assistant professor of pharmacy practice, since fall 2019. What began with literature reviews of the published research on IP, morphed into an active study of the phenomenon on ONU pharmacy students. In July, their research was a Podium Presentation at the 2020 Ohio Pharmacists Association Annual Meeting, and they are currently working on a manuscript in hopes it will be published soon.
"I have learned so much from completing research here on campus. Not only have I had the opportunity to learn more about a topic that I was not well aware of, I have learned what it is like to be a part of a research team," he says.
Dylan's post-graduation plans include completing a residency in either pediatric or emergency medicine pharmacy, something he may not have set his sights on before he became a researcher, since IP would sometimes creep into his thoughts, telling him that he wasn't prepared well enough or didn't know the material. His new understanding of how IP can inhibit individuals has given him more confidence in his own abilities, and is helping him get the most out of his education.
"The curriculum is set up in a way that has allowed me to start gaining information on how to be a pharmacist. I'm learning skills that will last my entire profession. It has put me ahead of my peers at other pharmacy colleges, and I am thankful for that."