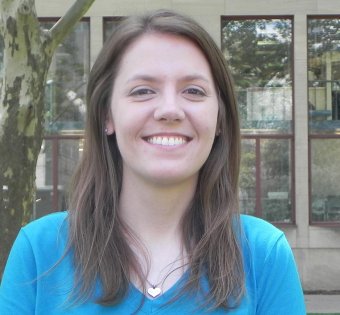 For Courtney Olson, BS '14, studying chemistry at Ohio Northern shaped her into a confident, award-winning researcher, and she is now a postdoctoral scholar working with professor Gabriela Schlau-Cohen at the Massachusetts Institute of Technology (MIT). She is working toward her goal of becoming a professor at a top-tier university.
At ONU, Courtney developed the foundational research skills that were crucial to her success in college and beyond. From her sophomore year until graduation, she did lots of hands-on research, gaining firsthand experience in both the rewarding and challenging aspects of research.
"Research is the opportunity to see the scientific process in action. There are successes, but the tribulations provide much more of a learning experience," she says. "My undergraduate research prepared me for this, since I had to learn how to adapt and apply new techniques to study unexpected results."
In addition, Courtney's time at ONU helped her gain confidence, obtain a broad-based knowledge of chemistry and realize her own leadership potential. The faculty left a huge impact on her both personally and professionally, and in her own words, "without their continual support during my undergraduate career, I would not be where I am today."
Thanks to encouragement from faculty, Courtney decided to apply for the Goldwater Scholarship, a prestigious national award given to a select few highly-qualified undergraduate students annually. Upon receiving the award, she realized that she was able to make great contributions to science, and she felt even more confident in herself and her research capabilities.
"Being a Goldwater Scholar opened the doors to many opportunities," she says. "Applying for graduate schools is where the impact of becoming a Goldwater Scholar became prevalent. Recognition for my achievements and the potential for better achievements was enticing for graduate schools. I received many offers, and I was able to pick the school that was right for me."
The Goldwater Scholarship also played a key role in her receiving a National Science Foundation Graduate Research Fellowship in graduate school. Even to this day, she says, she still receives recognition for being a Goldwater Scholar.