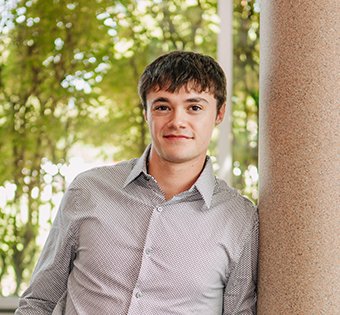 For Bronsin Buck, figuring numbers has always come easy. At ONU, he's building upon his skills with a double major in finance and accounting.
"I want to become either an accountant, financial adviser or financial planner," he says. "I am also considering going to law school to become a finance attorney."
Bronsin, who attended Pendleton Heights High School in Pendleton, Ind., wanted to attend a University that offered personalized attention from professors. ONU fit the bill.
"In high school, I had great relationships with all my teachers, and that really helped me. I get the same experience here at ONU where the professors actually care about you and will have conversations with you any time about any topic, not just your coursework."
His business professors have made connections for him, including helping him land a summer internship at Edward Jones. "Many professors have worked in the field of business for most of their careers, and this really helps because they share those experiences with us," he says.
At ONU, he is involved in many organizations, including the Sigma Pi fraternity; Student Senate; the Dicke College Dean's Advisory Council; Traffic Appeals Board; and Brother 2 Brother.
Being involved in Greek Life, he says, has resulted in deep friendships and lots of fun. "The brothers are a lot like a family, and there is always something to do with the guys. I like hanging out with them the most, and we do a lot of good for the community."
In his free time, he enjoys playing basketball and video games, reflecting on Bible verses, and cooking. He's found a perfect spot at ONU for each of these pastimes.
"I feel at home when I am at ONU," he says, "and this is important to me, considering I am here for most of the year. Here your fellow classmates push you to be better, and your professors make sure you understand the content and don't fall behind. The community at ONU is simply unmatched."