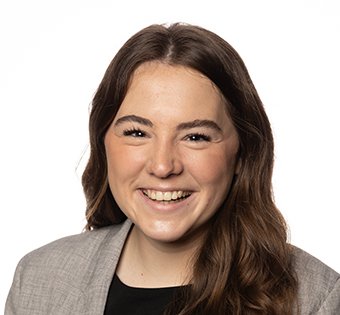 Political science and public relations major is grateful for her ONU education and for the scholarship sponsored by her church
Andrea Hoffman feels lucky to be at ONU, especially as a recipient of a scholarship sponsored by members of her faith.
The Methodist Crusade Fund was established in 1964-65 by Ohio Methodists after they conducted a campaign for higher education. More than $2 million was raised for the four Ohio Methodist colleges, and income from the fund is used for scholarships for Ohio church members enrolled in them.
"I am very grateful for what ONU has done to help make my education more affordable," the political science and public relations major says.
While growing up in Lewis Center, Ohio, Andrea had an avid interest in history and government. She is considering acquiring a law degree to focus on health law and cites living with cystic fibrosis as a key influence. "I am passionate about advocacy and believe public policy is the way to make lasting change."
Many of her experiences at ONU are highlights, she says.
A 2021 summer internship at Belle Communications let Andrea apply lessons from the classroom. "It was great to work with a female-run company and see how workplace culture can benefit clients."
During her internship with Ohio Insurance Agents Association, Andrea worked on a variety of projects, allowing her to meet with industry professionals and government officials, thereby expanding her network.
As a founding fellow at the ONU Institute for Civics and Public Policy, the scholarship recipient "gained real-world experience through formatting policy briefs, analyzing data, facilitating polls, running social media accounts, talking with alumni and friends of ICAPP and working with peers."
Also, in December of 2020, she published an op-ed with CNN. "I used coursework to tell my pandemic story on a national level and was able to add a publication to my resume."
Her most memorable experience, though, was attending the national Democratic debate at Otterbein University while reporting for ONU.
"It took place in 2020 during my first months on campus. I interviewed Senator Amy Klobuchar, former Representative Beto O'Rourke and interacted with Senator Elizabeth Warren and the current Vice President Kamala Harris," she says.
For Andrea, the relationship between her church and her school nurtures her in more ways than she can express.
"The partnership between Ohio Northern University and the United Methodist Church has been so beneficial. I can build a community in a place that shares my values," she says.