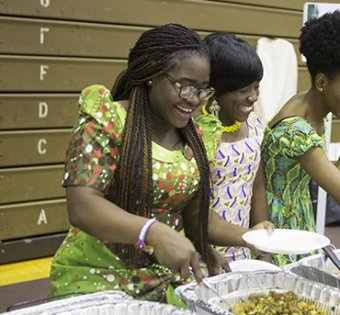 In her time at Ohio Northern, Amarachi "Amara" Egbujor, a pharmacy major from Nigeria, Africa, has learned to embrace her own unique identity.
When Egbujor first came to ONU, she was shy and reserved, and she was especially fearful of sharing her background with anyone. She would often be mistaken as African-American, but from time to time, her accent would give her away. Being different made her nervous and insecure; she just wanted to blend in.
Then, in the spring of her first year, she participated in the annual multicultural fair at ONU, an event celebrating different cultures with food, attire and presentations about other countries. She dressed up in Nigerian garb, made a Nigerian dish and shared a PowerPoint presentation about her culture. This experience opened her eyes to the fact that being different made her special.
Since then, she has really come into her own. She has intermingled with students from other countries as a member of World Student Organization, and she has served the local community in several ways through Alpha Phi Omega, a service fraternity on campus. She also has been an international student greeter for the past few years, helping incoming international students settle in upon arrival and through their orientation week activities.
"There's been a huge 180-degree transformation in me," she says. "Before I came here, I used to be reserved and shy. If I would talk in front of people, I would literally cry, but with the exposure here, I feel confident talking now. I've always had that struggle of finding where I belong, but being here has made me realize that you can just be you."