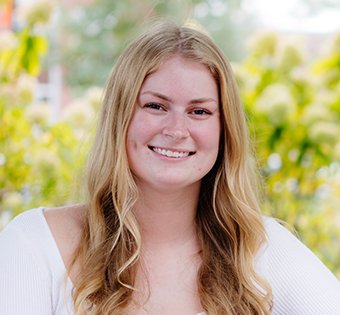 Finance and accounting major is gaining real world experiences
ONU student Allison Rountree says her father's influence led her to major in finance and accounting and to minor in data analytics.
"My dad has worked in finance most of my life," Allison says. "He inspired me to take a few finance classes in high school, and I ended up really enjoying them."
She appreciates the connection between her coursework and opportunities ONU offers for real world experience. During the summer, for example, she worked on the FTB team at UBS Financial Services.
"FTB is a team of about 30 people with seven financial advisors," she says. "I helped with many different tasks, including some for marketing and financial. I also cleaned a lot of data and organized spreadsheets."
The finance and accounting major learned a lot from the career planning class she took on "how to be a professional" where she was coached on how to dress, act and write a resume and cover letter. "This really helped me gain confidence when I was going into my internship."
Being involved with organizations has given Allison a jump on life after college. Among them are Zeta Tau Alpha, Dean's Advisory Council, Student Investment Group, and Women in Business.
Her favorite is Zeta Tau Alpha, a fraternity founded in 1898 to connect members through a close bond of sisterhood.
"Zeta Tau Alpha has given me some of the best friends I could ask for and allowed me to take on leadership positions that improve my leadership skills and give me job experience," she notes.
Also high on her list of unique experiences at ONU is the trip she took during the spring to France and Belgium for a class on World War II.
"We saw many famous war monuments and also the beaches of Normandy," she says. "It is so cool ONU can offer such amazing trips." 
This go-getter wants students considering colleges to investigate ONU.
"The faculty and staff of the Dicke College of Business Administration are amazing," she says. "They are willing to help, and they care about students. There are many ways to get involved, and students may continue to follow their passions here."
Following her passions means Allison is an orientation leader, a tutor and a peer mentor, which allows her to help business administration students through their first year.
"The people here are so genuine," she encourages high school students. "You will find where you fit."