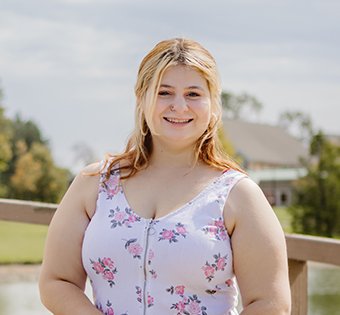 A scholarship made her dream of becoming a teacher a reality
Receiving the William L. Robinson Scholarship is helping Allison Bowman's dreams of becoming a teacher come true.
The scholarship was established in 2000 by alumni, friends and colleagues of William "Bill" Robinson, BSEd '61, Hon.D. '05 who is an icon at ONU, having served his alma mater for more 40 years in numerous administrative roles.
Allison says the financial help has been vital.
"Without it, I would not have been able to attend ONU," she notes. "My oldest brother has autism, and my family has many medical issues that would prevent me from continuing my education here if not for the scholarships. I am forever grateful."
The Dayton native says ONU was the best fit for her because of "the great education program and the fact that field placement begins freshman year."
She appreciates that the "professors are truly there for you" and really likes the small classes and the university's wide variety of organizations.
Participating in Habitat for Humanity and Teachers for Tomorrow is especially rewarding, Allison says.
"Working with Habitat for Humanity allows me to assist the community. Also, the people I've met have helped me grow into the person I want to be."
After graduating in 2024, Allison plans to become a special education teacher.
"I would like to continue learning sign language so I can help students who need it," she says.
The future teacher has gained real-world experience by working with youth each summer.
"When I'm home, I work at a local daycare center," she explains. "Being in ONU's early childhood education program has helped me to secure these positions."
Allison wants the scholarship's donors to know she is working hard to be a "worthy recipient." Evidence of her commitment is making the dean's list for three out of four semesters.
"That took a lot of dedication," she says. "I also have always worked campus jobs during my years at ONU, which makes being on the dean's list especially nice."