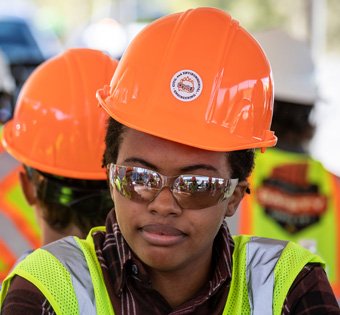 Aliya Mitchell is committed to bettering communities, and she plans to do it one bridge, sewer system or highway project at a time. "I think civil engineers are the often thankless foundation of our communities," she says. "Becoming a civil engineer is a great way to directly have a positive impact in the world by ensuring the safety and efficiency of our infrastructure."
Aliya chose ONU because she didn't want to get lost as a number at a large state school, but still wanted a quality education. "ONU has great placement rates at great companies and amazing professors," she says.
In her classes, she is gaining a strong foundation in civil engineering and exposure to the many different career avenues her degree could take her. Team-based projects–the tenant of modern engineering–is a large part of her academic experience. "Using a team of different people with different skills to solve problems–that is what engineering is all about," she says.
At ONU, this Dean's Scholarship and Dimension Scholarship recipient dived into many amazing opportunities. She completed a co-op at CESO, Inc., in Akron, Ohio, a national engineering firm. She served on the ONU presidential search committee, getting to meet and weigh in on the candidates vying to become the 12th president of the University. She is a Bear Ambassador, a member of the Concrete Canoe competition team and several engineering clubs. And, she participates in the chapel worship band and plays club soccer. Her soccer skills enabled her to find work refereeing local youth soccer games. 
Recently, Aliya was named the president of ONU's chapter of the Society of Women Engineers. She loves showing other young women through her example that women can excel in engineering. "Although women are the minority within the field of engineering, I find it increasingly inspiring to see the numbers grow with every freshman class," she says. "Having great professors as role models coupled with organizations such as SWE has allowed me to share my experiences with others and know that we are supported as equals within the field."