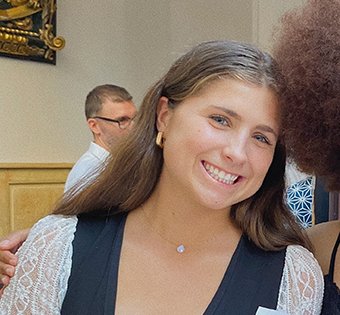 Destination: Paris, France
As a little girl, Alaina Casey dreamed of visiting the City of Lights. As a ONU student, she got the opportunity to live there. 
The junior marketing and public relations major spent a semester in Paris as a digital marketing intern at a concept fashion store where she worked with brands such as Fendi, Rick Owens, Balenciaga and Oscar de la Renta. 
"Never in a million years did I think I would live in Paris," she says. "My whole perspective on the city changed, and I fell in love with it."
Although she didn't speak French, Alaina discovered that many Parisians speak English, so navigating the city was easy. She also conversed with every waiter, co-worker and shop keeper she could to pick up French phrases and slang.
"I learned to become independent by immersing myself in the culture," she says. "I became unafraid of the unknown, not knowing how to speak the language or where I would spend my day. I realized that not being afraid of the unknown opens up so many doors."
Alaina became friends with a fellow intern from Miami, Florida, who also lived in her apartment building. Together, they explored the city, from the Luxembourg gardens, to street cafes to music festivals. 
Every day for lunch they'd eat a baguette sandwich. "And let me tell you, they were phenomenal," she says. "If you ever find yourself in Paris, have at least one pain au chocolat and a baguette sandwich with Camembert cheese; it will change your life."
On weekends, Alaina would sometimes visit other French or European cities, but she was always happy to arrive back in Paris. "The architecture, the fashion, the food, and the charisma (of Paris) was the culture I wanted to surround myself with," she says.
Alaina says that her study abroad in Paris increased her confidence in herself and her respect for different cultures. She can't wait for her next adventure. 
"The French culture inspired me to live life to the fullest and not stress about every little problem," she says. "Go out with friends, shop, go to a park, take a break and be happy to be alive."