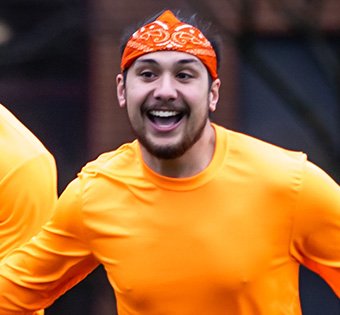 The cornfields surrounding Ohio Northern University provide a sense of comfort to pharmacy major Aaron Litherland, reminding him of his home in rural Indiana. In other ways, though, Northern has challenged his comfort zone. And that's been a good thing, he says.
"In high school, I never would have imagined being so involved in college," he explains. "I'm a very shy and soft-spoken individual, but the people I've met at ONU inspired me to grow as a person and leader; and I have really broken out of my shell since arriving."
Indeed, "shy" is not a word you'd used to describe the president of the Greek fraternity Delta Sigma Phi, or the Bear Ambassador who gives campus tours to prospective students and their families, or the Orientation Leader who enthusiastically welcomes incoming freshmen by racing them on a giant slip-and-slide. 
Aaron is all these things and more at ONU, and as a result, his confidence in himself as a leader and communicator has grown by leaps and bounds. He knows his newfound skill set will allow him to excel as a pharmacist, and that's his ultimate goal. 
Growing up with parents who both work in the healthcare field, Aaron became fascinated early on with the ways that medicine affects the human body. ONU's 0-6 pharmacy program allowed him to start learning to become a pharmacist on day one, without having to reapply and compete for a spot. His career goal is to work in a hospital clinical setting. 
 "A passion of mine in helping others," Aaron says. "I find it a privilege to be trusted as the medication expert for patients, and I desire to do my part to increase the health of as many people as I encounter."