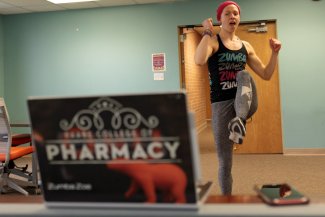 Student fitness instructor Zoe Schilling isn't letting quarantine stop her from getting campus in shape.
Over the past few weeks, many of us have gotten well acquainted with video conferencing as the go-to method for communicating with anyone outside of our own home. Stay-at-home orders have made Google Hangouts, Facetime and Zoom meetings not just the preferred method for getting work done, but also for spending time with extended family and friends. People are throwing virtual parties, hosting Zoom happy hours and having game nights on the platforms. Fourth-year pharmacy student and ONU HealthWise Zumba Instructor Zoe Schilling has even taken her exercise classes online to keep ONU students, faculty and staff fit and healthy.
Before the COVID-19 pandemic, Schilling was teaching "Zumba with Zoe" and "STRONG by Zumba" multiple days per week at King-Horn Sports Center. After ONU transitioned to online education and the majority of students left campus, Schilling began teaching her classes via Google Meet from Lima Complex, where she is the resident director. Now that she is also home, she is live-streaming "Zumba with Zoe" on Tuesdays at 5:30 p.m., and "STRONG by Zumba" on Thursdays at 4 p.m. for the remainder of the semester.
"If anything, this experience has opened my eyes to how blessed we are to have the facilities we have at ONU," says Schilling. "With these live-streamed classes it's hard because I have to constantly adjust my camera so that my students can see all of my movements when I'm showing them a new exercise. And it's really tough to not be in the same room as my students because I feel like we all feed off our energy when we are together."
Energy is always in abundance at Schilling's classes, and it needs to be. Zumba is a dance-based, aerobic exercise program that includes interval and resistance training that burns up to 350 calories per hour. Schilling refers to it as "fitness in disguise" because of how fun it is. "STRONG by Zumba" is high intensity tempo training designed to burn calories and tone muscles through plyometric and isometric movements — all set to music.
"My ultimate goal is to be someone that others view sort of as a 'fitness role model.' I wish for people to trust in my advice in order to become fit and healthy, while having fun," she says. "I want people to enjoy exercise as much as I do. Once you reach the point where the endorphins kick in, exercise gives you the best feeling."
Schilling's enthusiasm has garnered "Zumba with Zoe" a dedicated fan base. She's averaged attendance in the teens for her classes, which are fewer than she taught on campus, but still pretty good given the circumstances. In fact, her students are the reason she's doing the live streams. Before some students even knew how they were going to handle online instruction for their classes, they were asking Zoe if she was going to keep teaching.
"I love that my students asked me to continue teaching my classes," she says. "It shows that I am able to provide a service to help motivate others while doing what I love. I am beyond grateful for this experience."