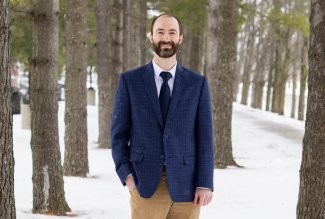 If Ohio Northern University's sesquicentennial celebration was a song, what would it sound like? Adjunct music instructor Jonathan Wey has been commissioned to answer that very question. A lifelong musician and composer, Wey didn't hesitate when asked if he'd be willing to create a choral arrangement to commemorate the University's 150th anniversary.
Titled "Of Hope and Remembrance," the piece will debut at the University Singers' spring concert scheduled for April 29.
But why Wey? Musically precocious and engaged from a young age, he's steeped in the ways of melodic influence and import, which makes him a natural fit for this project. His father is an arranger and composer and his siblings are drawn to music as well. According to family lore, when Wey was 4 years old, he tried to play the piano, but announced to his mother that he'd decided he wouldn't be mature enough to fully commit to the endeavor until he was 6. When he did begin playing (at age 6, as planned), he preferred to create his own tunes more than learn existing arrangements. He became enamored with a package of lessons titled, "You, the Composer," which offered titles and other prompts for students to compose their own pieces.
Since moving to Ada with his wife in 2010, Wey has arranged pieces for the Lima Symphony Orchestra, composed for Ohio Northern's choir and been commissioned for other projects.
Wey, an Indianapolis native and Indiana University graduate, says texts remain an essential component of his composing process. For "Of Hope and Remembrance," he selected a Walt Whitman poem, titled "As they draw to a close," for inspiration. Whitman and ONU's founder, Henry Solomon Lehr, lived during the same era, Wey, a longtime Whitman admirer, realized. His chosen poem was written in 1871, the same year Lehr founded ONU. It addresses time, diversity, agency and community, which Ohio Northern philosophically emphasizes. The lines that state, "For them I have lived" and "In them my work is done" also harken to Lehr's commitment to educating students. Wey is incorporating those themes of posterity and heritage, inherent in Lehr's legacy, into his choir composition.
"It's word painting," Wey explains. "What do the words create musically? What sounds should they make?" The overall piece, with its differing parts that form a moving melody, emphasize the kind of community that ONU represents, he says. "It's this idea that everyone brings their gifts. That's what a university is. We're all different but we're all working in harmony."
Another significant challenge that Wey is facing with this project is duration: his composition will be no more than five minutes long. "How do you say so much in such a short amount of time?" he wonders.
Wey commenced to working on the project last fall and is pleased with its progress. Now that the hardest part—getting started—is over, he's found his rhythm. "Once you find your direction, then it can be really fun, just the craft" of composing, he says.
Along with the Whitman poem, Wey is drawing from inspiration all around him. When he agreed to take on the project, some sesquicentennial committee members provided him with general ideas for theme and tone. He and his wife, Elesha Wey, a 2011 ONU graduate, serve as music leaders at Saint Steven the First Martyr Orthodox Church in Lima, Ohio, and have sung with the Lima Symphonic Choir. Elesha provides private piano instruction to several students in their home. Their oldest three of four children play piano. For the past eight years, Wey has taught aural skills, music theory and composition at ONU.
Wey, of course, also relies on his favorite composers, sound tracks and movie scores when he composes to aid his creativity. Some of his favorites are Mahler's "Symphony No. 2"; Edward Elgar's "Enigma Variations"; and movie scores by John Williams, Hans Zimmer, James Horner and Thomas Newman.
For "Of Hope and Remembrance," the best is yet to come, of course.
"I think the most gratifying thing is the end game where you get to work with musicians and you get to hear it on stage," says Wey.