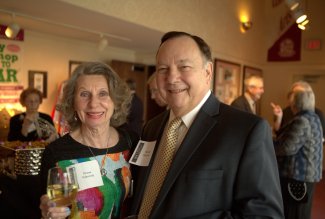 As part of the Forward Together campaign, Drs. Tom, BSEd '65, and Diane Vukovich have established the Student Adventure Fund in the Getty College of Arts & Sciences. This fund will provide support for deserving ONU students to travel either internationally or domestically while pursuing their arts and sciences education.
With every trip they embark upon together, the Vuckoviches obtain a fresh perspective on life. Having visited 76 countries to date, they've gained extensive knowledge about different cultures and people. Now the couple's wish is for future ONU students to have the opportunity to broaden their horizons through travel, too.
The Vukoviches are retired higher education administrators and educators. They've been blessed to be able to travel the world together for more than 50 years. On the last day of every trip, they spend time discussing their next adventure.
 
"We believe that travel is also important for college students, as it complements classroom learning, empowers students to move outside of their comfort zone, and enables them to gain a level of cultural fluency," says Tom. "Through hands-on experience, students gain personal experience that enables them to be stronger world citizens."
Teaching, learning and leadership is the life's work of the Vukoviches. At the University of Akron where they both worked, and at Tom's alma mater, Ohio Northern University, they have positively impacted the lives of countless young students.
After graduating from ONU in 1965, Tom went on to earn his M.S. and Ph.D. from Kent State University. He joined the University of Akron as an academic advisor, but soon moved into a variety of leadership positions, including associate provost for student and enrollment services.
Tom nurtured student leadership at UA by bringing the Order of Omega to campus and he established a scholarship for graduate students with the Omicron Delta Kappa Leadership Honor Society National Office. He received the John D. Morgan Award for Lifetime Service from the Omicron Delta Kappa Society and Education Foundation. Tom retired from the University of Akron in 2000 after 28 years of service, and then served as interim director for enrollment management at Youngstown State University for one academic year.
Diane earned her bachelor's degree from Youngstown State, her M.S. in biology education from Kent State, and her Ph.D. in education from the University of Akron. At UA, she taught math and chemistry courses, co-founded the University's math lab, and served on the faculty senate and university council. She is most proud of helping thousands of students acquire the math skills needed to pass their required mathematics courses.
Tom and Diane have volunteered with many vital organizations and committees that support education. Presently they are volunteer "EdZoocators" at the Akron Zoo. Tom was a member of the Getty Arts & Sciences Advisory Board for more than 20 years and in 2016 received Ohio Northern University's Distinguished Alumni Award. In 2008, the Vukoviches established the Vukovich Scholarship for Excellence in Mathematics and Science at ONU. The Vukoviches are Life Members of the Henry Solomon Lehr Society.
With their support of the Forward Together campaign through the establishment of the Student Adventure Fund, the Vukoviches have cemented their legacy of teaching, learning and leadership.