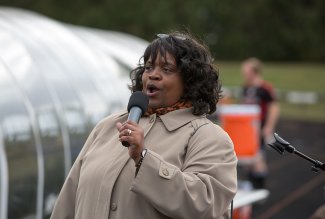 Before the National Football League's Thursday Night Football game between the Cincinnati Bengals and the Cleveland Browns even kicked off, it was clear to all that the "Battle of Ohio" went to Northern.
Dr. Adriane Thompson Bradshaw, ONU's vice president for student affairs and dean of students, sang the Star Spangled Banner before the nationally broadcast game and delivered a magnificent rendition. For ONU Bengals fans it was undoubtedly the high point of the evening, as their team fell to their in-state rival 35-30, but for that moment, even the most die-hard fans were united.
Thompson Bradshaw was invited to perform after being nominated to do so by one of her ONU colleagues, Director of Student Conduct Chad Shepherd. A Browns season-ticket holder, Shepherd wrote to the team last November to make the case for Thompson Bradshaw, and he was notified in April that she had been selected for the 2020 home opener.
In his letter, Shepherd highlighted the Cleveland native's deep love of music, writing, "In addition to the Browns and working with college students, Adriane's true love is music. When she arrived at ONU she founded the ONU Gospel Ensemble. Each week they visit area churches to perform gospel music, sometimes driving hours away from the campus just to spread the music of God. And most importantly for this request, Adriane is the 'go-to' singer of the national anthem on campus. Her voice is truly from another realm, and the 70,000 Browns fans WILL NOT be disappointed."   
Due to COVID-19, there unfortunately weren't 70,000 fans at First Energy Stadium, but Ohio Governor Mike DeWine, JD '72, did grant the Browns a variance to the state sports order that allowed up to 6,000 fans to attend. Also due to the pandemic, all anthems for NFL games are prerecorded and not performed live to keep the number of people on the field to a minimum. She recorded her rendition in Cleveland on Sept. 3.
"It was still such a cool experience. I'm a big Browns fan, but this was my first trip to First Energy Stadium," says Thompson Bradshaw. "They gave me a personalized Browns jersey, and I got to sing at midfield. My husband Tony kept telling me what a big deal it was to be standing on the 50-yard line."
ONU's connection to Cleveland sports and the Browns specifically is stronger than one might expect. The ONU Marching Band has performed at halftime in the past, and ONU Hall of Famer Jason Trusnik, BA '06, played for the team from 2009-10. President Dan DiBiasio's brother Bob is senior vice president for public affairs for the Cleveland Indians, and "Mr. ONU" Bill Robinson, BSEd '61, Hon. D. '05, was the team's traveling secretary in the early 1950s.
After recording, the Browns organization said they would consider bringing her back next season so he can perform on game day before 70,000 fans, including one of her biggest ones in Shepherd. After seeing and hearing what we all saw last night, it would be a shame if they didn't.