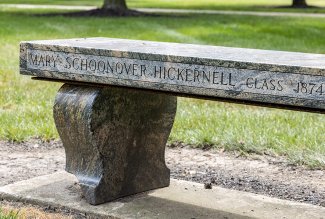 Alumna's first-hand account of Ohio Northern's earliest days provide contrast to today.
On a Saturday forenoon, August 1871, Mollie Schoonover's heart quickened as her horse-drawn wagon rumbled down South Main Street and approached the not-yet-completed school building for the Northwestern Ohio Normal School. She described it as an "imposing, awe-inspiring building, destined to play so great a part in the events of ensuing years."
Possessing a sharp mind and lively spirit, Mollie loved to learn and teach. In fact, she had been teaching since she "was not quite 15." But few women, much less those who hailed from a family of 15 children in a poor country home in Kenton, Ohio, had access to higher education in the 1870s. The opening of Henry S. Lehr's "teacher college" in Ada changed Mollie's fortune.
Today, 150 years later, Mollie's school—Ohio Northern University—is one of the premier private institutions of higher learning in the Midwest. And now, as then, the University is destined to play a great role in the lives of its students arriving this August.
Mollie's Legacy
Mollie (Schoonover) Hickernell, BS 1874 was one of 11 students in the first graduating class from ONU. The University enabled her to fulfill her academic ambitions, and she taught at both ONU and Ada High School, positively impacting many young lives during her lifetime. When she passed away in 1936 at age 82, she was the last surviving member of her graduating class. The Ada Herald wrote that she had "won the love and respect not only of those who sat in her classes, but also of all others who knew her."
 
Hickernell left a historical legacy by writing an account of her first year at ONU published in the University Herald in 1896. As the University celebrates the start of its momentous 150th year, Hickernell's fascinating remembrances, along with additional historical materials, allow us to glimpse into ONU's beginning days and to see how much has changed over the course of a few generations.
Travel & Campus Move-In
1871: Hickernell and her classmates traveled to campus by horse and wagon or by train. The exact number of students that first year is unclear; ONU founder Henry Solomon Lehr mentioned 147 students in a reminiscence, and the ONU 1870-71 catalogue lists 131. All but one of the 131 students listed in the catalogue hailed from nearby towns in Ohio, as most people did not travel great distances in those days. The students brought with them simple belongings needed for day-to-day living. Hickernell described "sitting among bedtick, cooking utensils, vegetables, and whatnot, as my patient father drove his heavily loaded wagon up South Main Street."
2021: This August, ONU is welcoming its newest class of students to campus who are traveling via automobile and airplane—modes of transportation that didn't exist in 1871. They hail from across the United States and 14 countries. Laptop computers, game consoles, mini fridges and microwaves are the prized possessions they are bringing with them to campus—technology beyond the realm of imagination in ONU's early days.
Residential Living
1871: No campus housing existed, so students found local residents to provide room and board. "There were, it is true, some who boarded in private families; while others who did not care to board themselves, clubbed together, furnishing provisions to be cooked by some lady at so much per member," wrote Hickernell.
2021: ONU has 19 residence halls that provide comfortable housing for students on campus. McIntosh Dining Hall serves food seven days a week for every appetite, from pizza to deli sandwiches, Mongolian grille to fresh salads.  ONU even has bikes for blending smoothies, an American-style burger and fries cafe, and new this year, a Starbucks.
Campus Buildings
1871: With only one academic building not yet completed, those first students in August 1871 attended classes in the basement of the local Methodist Church (which was also under construction) and in the "union school building," according to Hickernell. "Crude and simple were the surroundings, but no one noticed that in the all engrossing thought of getting an education," she wrote. In October 1871, the Normal School building "was at last finished," she continued, "and we had a big public dinner on the lower floor, price 25 cents, in the day time, and in the evening, a concert ..."
2021. ONU's sprawling 342-acre campus includes 60 buildings, 40 acres of blacktop, 16 acres of woods, 18 miles of sidewalks, 9.5 miles of lake, and numerous athletic fields. State-of-the-art learning facilities, from the James Lehr Kennedy Engineering Building to the Dicke Hall of Business, the Freed Center for the Performing Arts to the Mathile Center for the Natural Sciences, provide the latest laboratories, equipment and technology for students. While the Normal School building where Hickernell and her classmates attended school no longer exists, Lehr Memorial's cornerstone was carved from the stone on the stairs of the old Normal building.
Academics and Life Lessons
1871: ONU began as an institution that trained teachers, but the school soon added professional training programs. Hickernell reported taking classes in Bible, Higher Algebra, French, Physiology, Rhetoric and Chemistry. Hands-on learning even occurred. "We had experiments too," Hickernell recalled, "bought some powders and burned them, watching with scientific delight the colors of the flame." A library did not exist, so students canvassed the village to solicit donations of books, which Hickernell wryly noted "were generally those which they did not care to keep themselves."
ONU also taught Hickernell many life lessons starting with that October 1871 dinner to commemorate the new building. "This day was learned one of the many lessons gained outside of the textbooks," she wrote. "Busy all day waiting on the tables, toward the evening I asked Prof. Niesz whether he had enjoyed the dinner. His reply was that it was not a question whether he had enjoyed it, but whether others had. Thus it was borne in upon my young mind that a leader in any movement must put self out of sight."
2021. ONU has five colleges and 60+ programs. With an emphasis on high impact learning, students spend just as much time learning outside the classroom as they do inside through research studies, internships, study abroad and real-world projects. They continue to learn life lessons from dedicated and caring faculty and staff who still put students first.
Student Life
1871: Those first students formed two literary societies, Franklin and Philomathonean, and members met regularly for debates, recitations and concerts. The societies competitively "solicited" for members. One enterprising student—J.W. Zeller—gained new members by offering to stuff their bedticks with fresh straw! Hickernell also reported sleighride expeditions in the winter to Bluffton and Roundhead, the latter expedition returning in the 'wee small hours of the night,' (i.e. about 4 a.m.) But the president was along so no chapel lecture followed to mar the pleasure of the memory."
2021: Today's students have the option to participate in more than 200 clubs and organizations, covering almost every interest, from gospel singing to badminton, stock market investing to cheerleading. Men and women participate in NCAA Division III sports, club sports, intramurals and Esports as well as music ensembles, theatre and dance.
The fortunes of the 1874 graduates
In the early days of ONU, students came from humble backgrounds. Most could only afford to attend school for a semester or two, obtaining just enough schooling to pursue a brighter future. So while more than a hundred students started classes in August 1871, three years later, only 11 students—six men and five women—officially graduated from the institution. They received a diploma, although not a degree, because under state regulations the school did not have degree-granting authority at the time.
Through historical records, it appears that most members of the Class of 1874 enjoyed successful lives. Sadly, two members of the first graduating class died just 10 years after graduation in 1881. Sue (Fogle) Pooley, BS 1874 became a teacher and married a Columbus, Ohio doctor. She died in childbirth and just two months later her infant daughter died of cholera. Anna Stayner, BS 1874 became a teacher but died from measles, a disease that is now prevented through vaccination.
C.W. Butler, BS 1875, BA 1878, of Defiance, Ohio, and S.P. Grey, BS 1874 both became successful businessmen. R.C. Eastman, BS 1874, Lima, Ohio, became a respected attorney and community leader while E.L. Sinclair, BS 1874 reportedly became a minister in Michigan. A.D. Snively, BS 1874 became a horticulturist/farmer in Ohio. Sallie (Lindsey) Leslie, BS 1874 and Metta (Ferrall) Phifer, BS 1874 became teachers. Phifer lived a long life, dying in 1931.
J.W. Zeller, BS 1877, became a respected educator in the state of Ohio serving as the superintendent of Findlay public schools for many years. He maintained a warm friendship with ONU founder Henry Solomon Lehr during his lifetime. In April 1906, according to newspaper accounts, Zeller's leg had to be amputated. He somehow survived the blood loss and threat of infection and made a good recovery after several harrowing months. He lived to age 77. In a twist of historical fate, just a few months after Zeller's amputation, in August 1906, another ONU graduate, Dr. George W. Crile, BA 1885, co-founder of the Cleveland Clinic, conducted the first successful human-to-human blood transfusion. Crile's pioneering work in transfusions, blood pressure and shock would ensure that future amputees and many others would survive surgery.  
Final words from Mollie (Schoonover) Hickernell
In school, Hickernell wowed her fellow students with her academic ability. George Franklin Getty, BS 1879, LLD 1926 (for whom ONU's Getty College of Arts & Sciences is named) wrote: "Can I forget the admiration inspired within me by Mollie Schoonover, as I saw her walk so gracefully and effortless through the latter part of higher algebra, or as in her queenly style she led us along the flowery paths of rhetoric. To me it was superhuman, it bordered on the miraculous."
Hickernell taught math, Latin and French at ONU circa 1875-82 and 1901-02 and she served on the board of trustees, 1924-26. She married a preacher and had five children, one of whom preceded her in death. When her husband's health failed, she returned to the classroom teaching at Ada High School until her own health began to fail in her later years. She then turned to writing poetry and working in her flower garden maintaining the "mental alertness and cheerful attitude that characterized her entire life," according to the Ada Herald.
In front of the Dukes building on campus, a seven-foot rainbow granite bench sits in memorial to Hickernell and her brother, Professor Richard Holmes Schoonover, BA 1884, who taught Latin, Greek and English at ONU for more than 40 years.
In her reflection on her ONU student days, written in 1896, Hickernell noted: "In these 25 years, many things have changed in fact about everything except the human nature which is, after all, the chief element in the joy and sorrow of living. We had the same plans, hopes and ambitions then as now …"
She added: "Electric lights glow, good walks make travel safe and massive buildings rise where once there was lowly cottages. Yes, all is changed. All but the ever changing stream of faces that come as 'new students' and go away as 'seniors.' These, and these alone, are ever the same."