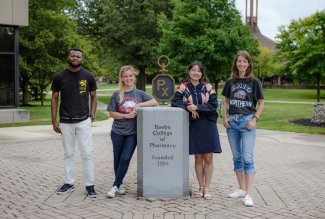 For the first time in more than two years, Ohio Northern University's Raabe College of Pharmacy hosted exchange students this past summer, resuming the time-honored tradition of cultural, educational and professional discovery that places differences in the profession of Pharmacy within the spotlight and provides opportunities to value and learn from them.
 
As COVID-19 restrictions eased, four students, each from a different country, came to campus for one month as part of the International Pharmaceutical Students Federation (IPSF), an organization with the American Pharmacists Association (APhA). Along with accruing their own valuable experiences, the exchange students were exemplary at teaching ONU pharmacy students, faculty and staff about pharmaceutical practices employed within their countries that, in some instances, are quite distinctive from American standards.
 
Participating were Yoo-Jung "Dana" Choi from South Korea, Tjasa Valic from Slovenia, Clémentine Curioz from France and Nigerian-born Justice "David" Ejele who now lives in Belgium.
 
Choi and Ejele were most interested in research, and therefore spent a considerable amount of their stay conducting lab work with Drs. Manoranjan D'Souza, M.D., Ph.D., and Mark Olah, Ph.D. Curioz and Valic, whose professional interests align closer with direct patient care, visited ONU's HealthWise Pharmacy and its Mobile Clinic, Lima Memorial Hospital, the University's Wheeler Pharmacy Services Call Center and the Drug and Health Information Center.
 
"We wanted them to get a taste of what things are like here," said Dylan McWilliams, a fifth-year pharmacy student who took the lead in planning the four students' visits and making sure their stay was rewarding. "Our laws and regulations (in the United States) are very different. I really wanted to immerse them" in American pharmaceutical learning and practice, he said.
 
Comparing and contrasting
 
According to Ejele, Nigeria "is slowly transitioning to a PharmD degree kind of system." Eastern Europe is different. "In Hungary where I study, pharmacists are still heavily concentrated on community practice, and even industrial and cosmetic/food industries rather than clinical practice," Ejele said.
 
Curioz and Valic said community practice is also prioritized in France and Slovenia respectively, which influences operations over the pharmacy counter.
 
"The system (in France) is very different because the pharmacist does not receive the prescriptions in advance and does not unpack the boxes of drugs; we receive ready-made boxes for a period of one to three months and we give the patient the number of boxes needed," explained Curioz. "So, we have a large number of boxes and that is why more and more city pharmacies are robotized."
 
A similar system in Slovenia also results in lots of boxes for pharmacists to handle, said Valic. Pills are counted and then shipped to the pharmacy, where they stay in the boxes that are provided directly to patients, he explained.
 
"Every (Slovenian) pharmacy also has a compounding lab and we mix a lot of creams, ointments and syrups. However, we never do the vaccinations and it is not very common to do the glucose or blood pressure measurements," Valic added.
 
Curioz said France is more comparable to the U.S. in that pharmacists "now have a role in monitoring chronic diseases, in prevention for the general public and we are largely involved in vaccination, first against the flu, then against COVID-19 and soon for the entire vaccination schedule."
 
Educationally within the states, the academic arena is more diversified, with the focus increasingly geared toward clinical, research and specialized practices. Hospital residency programs are prevalent, rotations are longer, and the interprofessional work with physicians is much more collaborative.
 
"It was nice to learn about the various practice options open to pharmacists here, how their training helps them fit into whatever practice field they may find themselves in, and how that helps ease the burden on the healthcare system," Ejele said.
 
"Moreover, what I found interesting was your organization, from the university level, of collaboration between student pharmacists and physicians, as I observed at the mobile clinic," said Curioz. "I think that organizing and collaboration from the university level is one of the challenges to be met in France."
 
McWilliams, a seasoned traveler who has visited and studied in England, France, Spain, Ecuador and Peru, adds that in some European countries, pharmacy practice is "more relaxed" and permissive, with pharmacists having more responsibilities. "The pharmacists are really the providers. If you have an ear infection, strep throat or some other lower-level health issue, they can write prescriptions" whereas in the U.S., federal laws are stricter, and some laws can vary by state.
 
Enjoying the journey
 
Ejele said he was eager to travel abroad to learn more about pharmacy. The language barrier he was facing as an international student in Hungary had been an ongoing issue that curtailed him from learning more outside of his university setting. A recommendation from a Hungarian pharmacist who had participated in APHA's exchange program, McWilliam's personable nature, and ONU's website, which he said "gave off a really warm and welcoming feel" persuaded him to take the travel leap.
 
Curioz said the opportunity to gain professional pharmacy experience abroad while indulging in travel, which she loves, encouraged her to apply for the exchange program, which she noted is popular among pharmacy students in France.
 
Valic said student exchange programs are also popular in Slovenia. "I often listened to older students talking about their summer exchanges all around the world. All of them were so excited and I knew I also wanted to do that."
 
McWilliams said the four summer exchange students "bonded really well with each other. They were laughing and joking. There was no homesickness."
 
McWilliams' travel experience was instrumental in helping the students to feel comfortable and welcomed. "I know how it can be in a foreign country, with a language barrier. But they all had a high level of English" and were intrepid; all wanted to experience as much as they could, academically and culturally, during their time here, he said.
 
Outside of their studies, ONU provided the students with myriad opportunities to experience American life, including:
 
·      Home-cooked meals with faculty such as Pharmacy Dean Steven Martin, Pharm.D. and Dr. Olah, who hosted the students at their homes;
·      Dining at the Greenhorn, a vegetarian/vegan restaurant in Bluffton, Ohio, and at Chic-Fil-A;
·      Campfires and s'mores; and
·      A long weekend trip to Chicago, which the students took the initiative to plan on their own.