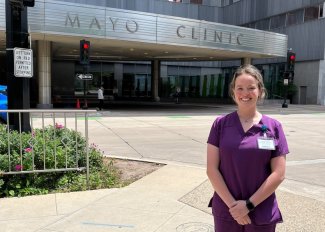 Ohio Northern University senior Kaitlyn Sullivan interned this summer at the Mayo Clinic in Rochester, Minnesota, ranked by Newsweek in 2023 as the world's top hospital.
Sullivan, a Kettering, Ohio, native majoring in medical laboratory science (MLS), interned in the Mayo Clinic's Summer Lab Science Program (SLSP) and worked in the Division of Transfusion Medicine in the component lab, a highly competitive spot for an intern.
"I think my greatest stand-out feature for applying for the SLSP internship is being a medical laboratory science major. It is not a common major that people know about or that universities offer," she said. "Ohio Northern greatly helped me stand out with its accredited MLS program, as well as my advisor, Dr. Lisa Walden, (BSMT '89), giving me a great letter of recommendation with my application.
"I feel so thankful for this opportunity and I was shocked when I found out that I got it," she continued. "A lot of the other interns are from big institutions that are around the Minnesota area. It makes me feel so proud to know that I was accepted from a smaller school in Ohio. I also have so much pride to know that I am the first MLS major to get to represent Ohio Northern at Mayo Clinic."
The internship helped Sullivan see the need for medical laboratory scientists across the country.
"I even saw my fellow interns come in not knowing what MLS was in the beginning of the summer. Now, they are looking for schools to apply to get their MLS degree after seeing how greatly Mayo Clinic and other hospitals need more," she said. "Overall, this experience helped me fall in love with my major even more seeing how far it can take me in the future."
Furthermore, Sullivan was inspired by seeing the real-world role she played in patient care.
"It feels amazing to have a role in the care of the patient even without ever meeting them," she said. "I have seen or taken part of each path of blood from the donor to the patient."
Her day-to-day role in the component lab was to receive the blood directly from donor services to begin processing, then separating the different blood components. Separation could include removing components such as white blood cells and plasma. The process can take between hours and days to complete, depending on what the blood is needed for.
Sullivan was also able to tour approximately 20 labs, greatly expanding her professional contact network. Multiple lab workers offered their contact information for any additional questions she might have.
"This showed how Mayo Clinic is tied to its core values of constant learning," she said. "Even Mayo Clinic's three shields in its logo stand for education along with practice and research."
"I hope my experience helps encourage my fellow Polar Bears to just apply to an opportunity, because you never realize how far it could take you in the future until you do!" Sullivan said.