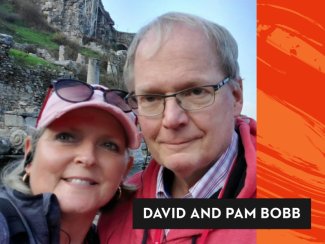 David Bobb, BSPh '77, cultivated a career based on his passion for service. Now, to better serve the students at his alma mater, he has established a scholarship beginning in fall 2023 to civically engage Ohio Northern University pharmacy students.
Bobb's belief in the larger role pharmacists should play in the policy-making arena has led to the creation of the David and Pamela Bobb Endowed Scholarship for Pharmacy Students and Public Policy Engagement, which will benefit pharmacy students who are active participants in ONU's Institute of Civics and Public Policy (ICAPP) or other public policy engagement organizations.
Bobb served 21 years in the U.S. Air Force, reaching the rank of colonel, while also obtaining his law degree after his days at Ohio Northern University.
"My career path has been slightly different than most pharmacists from the standpoint that I am an attorney as well, but even though the two professions may seem diametrically opposed to each other at times, I see the common foundation of each as simply a desire to serve and help others," Bobb said. "As pharmacists, we have the ability to change patients' lives each and every day. Whether through managing complex medication regimens, answering questions about a patient's medication, or simply helping a patient select an appropriate over-the-counter medication, it is all about that patient's health and well-being.
"In the legal realm, the issues may be small or quite complex, but no matter which, the client is seeking a resolution to a problem and has sought counsel to achieve that. Therefore, in both professions, the focus is solely on the patient and/or client and what can be done to help them. In my life thus far, serving others and knowing you have made a difference in their lives is what keeps the passion burning."
In 2020, he founded Pharmlaw Solutions, LLC, an innovative consulting firm assisting clients who wish to bring novel pharmaceutical therapies and medical technologies to active-duty military members and their families, as well as other military veterans.
His extensive career has placed him in a variety of practice settings, including independent pharmacies, large retail-chain pharmacies, U.S. Air Force pharmacies, and, more recently, positions within the U.S. Department of Health and Human Services and the Department of Defense.
In 2019, he received the Raabe College of Pharmacy's Distinguished Alumni Award for his work.
Along the way, he has also worked with congressional delegations and staffers, provided updates to both the Senate and House Armed Services Committees and served on a presidential committee to address pharmaceutical drug pricing.
Time and time again, he saw the extent to which civic and public policy issues influence the decision-making process in governmental and political settings. Public policy considerations were always at the forefront of any conversations and decisions, he said.
"Even though civics courses were still routinely offered and taught when I was in high school, the subject matter was very basic and provided more of an overview of how civics and public policy influence decision-making processes. Unfortunately for me, however, it wasn't until later in my career as the Chief of Pharmacy Operations at the Defense Health Agency that I was able to see and understand the process firsthand," he said. "As I was called upon to meet with presidential and congressional representatives to discuss healthcare policies and government pharmacy operations, I could speak comfortably about the technical aspects, but discovered how little I knew in regard to the role and influence public policy can have when formulating policies."
Bobb acknowledged this type of work is unfamiliar and, in many ways, uncomfortable for most pharmacists. He insists, however, pharmacists can be extremely efficient at operating at the tactical level of medication management and patient care, and operating as crucial health care team members.
"That experience caused me to reflect and understand how a solid educational foundation in civics and public policy would have enhanced my understanding of 'how things get done' at the governmental level and prepared me to be much more effective working within the system to discover optimal solutions," he said.
He thinks pharmacists should overcome their reluctance of being involved at the larger strategic policy-making level, despite the fact that those policies may directly determine the practice parameters and legal requirements for the profession.
Bobb hopes scholarship recipients will combine the skills and knowledge obtained in both the Raabe College of Pharmacy and ICAPP to become strategic pharmacy leaders who can effectively understand, navigate and operate within the complex realm of civics, public policy and the pharmacy profession.
ONU Political Science Professor and Founding Director of ICAPP Robert Alexander, Ph.D., said he is thrilled about the creation of a scholarship that welcomes more students to learn about public policy.
"We are incredibly excited about this scholarship for ICAPP and for ONU," said Alexander. "We believe it can serve as a model to engage students from all disciplines to learn more about the democratic process and how public policies affect us all."  
Bobb recently collaborated with ICAPP by making a guest appearance on the ICAPP-hosted podcast, "Un-CAPP it!" He discussed the causes of increasing prescription drug prices.
"Having the opportunity to speak with Dr. Alexander and work with some of the ICAPP students, I am convinced that ICAPP provides an educational and operational experience that opens the aperture of a student's societal viewpoint and how that student can function most effectively within that society. In fact, my experience has been such that I believe ICAPP should be mandatory for every student at ONU!" he said. "However, when I consider pharmacy students in particular, their entire careers and practices will be influenced and dictated by both professional standards and regulations as well as governmental agencies and legislative enactments.
Bobb said the earlier that pharmacy students understand how civics and public policy can and will influence the decision-making processes for all of these organizations, the better.
"The goal is that ICAPP will help them understand how important it is to become involved in the decision-making process when discussions are occurring, instead of simply being a recipient of the decisions after the fact," he said. "Given the billions of dollars spent on healthcare annually, pharmacy students and pharmacists are in a unique position to help shape the future of healthcare at the local, state, national, and even global levels."