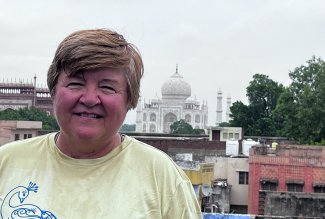 During a 30-year career in the U.S. Navy, Captain Barbara Bowyer, BA '76, blazed trails for women in the military and fulfilled her ambition for world travel. 
Now, she is supporting the adventurous aspirations of Ohio Northern University students with a large planned gift, a portion of which is earmarked for the Captain Barbara Bowyer Endowed Fund for International Travel.
Bowyer made her planned gift as part of ONU's Forward Together campaign, which aims to raise $100 million for student scholarships, teaching and learning excellence, facilities, and the Northern Fund.
Bowyer's gift will fund scholarships and facility improvements in addition to providing financial assistance to ONU students eager to explore different cultures through ONU-sponsored global experiences.
"International travel gives one a better perspective on life in the U.S.," says Bowyer. "We no longer live in isolation from the rest of the world, so it's vitally important that students experience first hand life from different perspectives. Reading and studying about other countries is simply not the same as immersing yourself in the local countryside."
Growing up in a large family in Bluffton, Ohio, Bowyer became the first in her family to attend college. International travel, she explains, was out of reach for her modest-income family, but it was always her dream. 
At ONU, she majored in history and economics and played basketball. She helped pay her way through college with part-time jobs. Her academic and athletic experiences honed her strong work ethic and skills in teamwork and writing. These skills later proved invaluable in Navy leadership. 
As she prepared to graduate, Bowyer encountered a Navy recruiter in McIntosh Center, and seized upon the chance to explore the vast world outside of Northwest Ohio while serving her country. 
In the U.S. Navy, Bowyer steadily rose through the ranks and earned a master's degree in computer systems management from the Naval Postgraduate School. She became the first woman ever to hold several important posts, thus paving the way for others to follow. 
She was the first woman to be assigned as the carrier intelligence officer for the USS Abraham Lincoln on the west coast; the first woman to serve as the intelligence officer for a numbered fleet staff; the first woman to serve as the director of intelligence for the Pacific Fleet; and the first woman in any branch of the U.S. military to command the Joint Intelligence Center for the Pacific. 
In this last role, she led a team responsible for analyzing any military event that occurred in the largest command area in the world. Her team numbered approximately 800 sailors and staff, with a coverage area from the west coast of the U.S. to the east coast of Africa. 
Unquestionably, her keen intelligence and leadership ability enabled her to excel in these commands. She gives credit to her team. "Those assignments would not have happened without the support of those for whom I worked and those who worked for me," she said.
In 2006, Bowyer retired from the Navy after 30 years of active duty. She then worked as a senior executive for the National Geospatial Intelligence Agency for seven years before retiring a second time. She now volunteers with numerous organizations including her church, a local recycling center, and Girls Scouts USA. On the national level, she's assisted the GSUSA staff and local Girl Scout councils in conflict resolution.
Bowyer is a long-time supporter of Polar Bear Athletics, in particular, women's basketball. ONU awarded her its University Distinguished Alumni Award in 2019. 
Her ONU education, says Bowyer, was the "essential springboard" to her Navy career. "Without it, I'm not sure what I would have been doing as a career. It's only looking at it in hindsight that I have come to realize today how vital my time at ONU was."
To date, she's traveled to 35 different countries, with Japan, New Zealand and Madagascar topping her list as favorites. 
Japan is fascinating, she says, "because it's simply so different from what I experienced growing up." New Zealand captivates her with its "sheer beauty of the landscape." While visiting Madagascar, she'll never forget the magical experience of riding in a dugout canoe on a mangrove-line river.
She hopes the Captain Barbara Bowyer International Travel Fund opens the door for ONU students to have similarly immersive experiences in different cultures. 
She shares this advice with future students: "Never stop learning, growing and exploring. Don't be afraid to get lost (been there, done that), and if given the opportunity to travel overseas—go for it!"
Shannon Spencer, vice president of advancement, says ONU is grateful for visionary donors like Bowyer. "Captain Bowyer admirably served her country, and now she's admirably serving generations of future ONU students. As a young woman, she longed to travel internationally, so she's generously giving that opportunity to others. We are incredibly humbled by her planned gift to the Forward Together campaign."
###