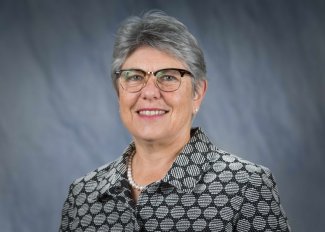 Brenda Reichelderfer, BSEE '80, has long supported Ohio Northern University and continues to do so with the creation of the Brenda L. Reichelderfer Endowed Scholarship, which aims to assist ONU students who have financial need with a special interest in women who are pursuing STEM-related fields, including nursing, pharmacy, forensics biology, chemistry, biology, engineering, medical lab science, math and others.
The underrepresentation of women in STEM-related industries motivated her to create this scholarship. While she feels opportunities for women in STEM fields are better than before, she feels it's been a slow climb, and there's still more work needed.
Extremely involved during her time on campus, Reichelderfer competed on the volleyball and softball teams and participated in many musical organizations, including orchestra, chamber chorale and others.
"A small handful of women worked with me to start the first chapter of ONU's SWE (Society of Women Engineers) in the basement of Biggs," she said. "We were small in numbers but mighty! SWE is critical for young women considering an engineering major—just like other affinity groups around minority concerns, plus it's a great professional organization, something that can bridge between school and your launch into the workforce. Although I was a strong participant and eventually leader in IEEE (Institute for Electrical and Electronics Engineers), SWE helped me feel like I wasn't the odd person out, that I really belonged."
Her Northern pride was strengthened by multiple people while on campus, including professor James Klingenberger, BSEE '69; Dean Bruce Burton, Hon. D. '08; Dr. Bruce Johansen, Dr. Silas Carmean, BSEE '59; and Dean Larry Archer, BSCE '47. 
"They were all particularly inspiring on my professional journey at ONU," she said.
"On the sports front, which was my joy and release, there was Helen Ludwig and coaches Gayle Lauth and Sheila Wallace Kovalchik always feeding my passion for sports and patching me up when needed," she added. "Also of great help was the Dean of Women Alice-Kay Hilderbrand. She and Helen Ludwig went above and beyond during two particularly tough times during my ONU years. They helped me personally, and I'll always be grateful."
Reichelderfer's support of ONU carried on years after graduation. She serves on the Board of Trustees and previously served on the Engineering Advisory Board, and she was co-creator of the ONU Camp GEMS (Girls in Engineering, Math and Science).
"There are still elements of our culture that I believe are holding us back," she said. "When starting Camp GEMS, we did some research that said that beginning in the fifth or sixth grade, women receive indirect messages about STEM not being what they should be interested in. That's why we decided to start GEMS, to provide some early positive reinforcement."
Reichelderfer hopes the organizations and opportunities continue to help women thrive in STEM fields as they did for her. 
"I always found ONU welcoming and supportive well beyond my imagination," she said. "Here, I could test my creative and athletic skills, all while learning the building blocks that allowed me to be well prepared for a career in innovation and leadership."
Along with her constant support for students and organizations, she has also supported Northern for decades. Along with the newly created scholarship, she has contributed to multiple ONU campaigns, including donations to the Dean Archer Memorial and James L. Kingenberger Scholarship Endowment Fund, The Northern Fund, the College of Engineering Building Fund, the Polar Bear Club and more.
Reichelderfer was named a College of Engineering Distinguished Alumni Award honoree and a Henry Solomon Lehr Society Life Member.
A Lima, Ohio native, Reichelderfer earned her bachelor's degree from ONU, then completed executive leadership programs at Duke University and MIT's Sloan School of Management. 
She has led businesses in 17 countries and is a global leader with extensive international experience in management, engineering and operations.