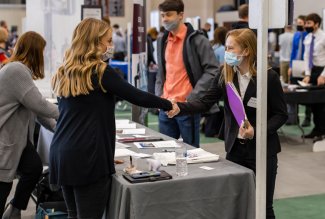 Ensuring that graduates find jobs right away in their career fields of interest is a primary characteristic of a great college education. Ohio Northern University has again hit that mark with statistics that show its success in this realm. Results from surveying the most recent graduates, from 2021, show that six-month job placement rates reached 97%.
The ONU college breakdown is as follows:
·      Arts and Sciences: 98%
·      Business: 99%
·      Engineering: 96%
·      Pharmacy: 94%
The above figures represent a 95% survey response rate, offering further validation of Ohio Northern's student-centered career assistance endeavors and illustrating that graduates are proud of their accomplishments and of their alma mater.
The latest statistics track with those in previous years, despite the volatile employment landscape and the ongoing pandemic as it reaches its third year.
Polar Careers staff credit these placement rates with ONU's stellar curricula, experiential learning, individualized attention and educators who deeply care about students and their goals. These factors all represent  "cornerstones as to why ONU is so successful," says Andrea Domachowski, director of Career Services.
Domachowski adds that "Polar Bears helping Polar Bears" is another reason why graduates launch their careers. Networking opportunities with alumni, including those who return for career fairs, are key, she says.
At ONU's recent spring career fair, Jacob Agin showcased this dynamic. Agin, a senior majoring in mechanical engineering, is already working full time for Kalmbach Feeds, Inc. as a project engineer. He was at the career fair meeting with students who might fit in with the company's team-focused culture, and was chatting with former co-workers in Polar Careers, where he had worked since his freshman year.
Agin, who will graduate in May, was eager to share information about his career trajectory. Working in Polar Careers at ONU gave him a jump start on what employers are seeking from job candidates, and his current job at Kalmbach now provides him with meaningful work highlighted with responsibility. He says he now has worked at the company's three Ohio manufacturing plants.
"The odds of getting cool projects are pretty good" at Kalmbach, says Agin, an Ada High School graduate. "For an entry-level engineer, that's awesome."