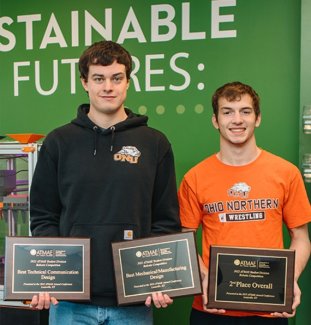 What if people could grow food at home with minimal effort, including not having to plant or water by hand?
Four Ohio Northern University seniors believed it was possible to engineer an autonomous solution for food production, and they set out to prove it during fall semester.
The manufacturing technology majors in the Getty College of Arts & Sciences designed, built and tested an award-winning, robotic greenhouse, nicknamed "Robogro," for their senior capstone project.
Resource scarcity, a critical sustainability issue, informed their project idea. A robotic greenhouse that plants seeds, monitors growing conditions, and waters the right amount when needed, offers a potential solution to shortages of food, water and human time.
The team entered Robogro in the robotic competition sponsored by the Association of Technology, Management, and Applied Engineering (ATMAE) in Louisville, Kentucky, in November 2022, where it won 1st place for mechanical design, 1st place for technical communication, and 2nd place overall.
The team's number one objective was to devise a functioning robot to address resource scarcity, said capstone team member Owen Sullivan. "But another goal was to completely blow the socks off the competition and show them what four ONU Polar Bears are capable of," he said, "and I think we achieved both!"
The capstone team first met last April to brainstorm an idea for their project. Because they wanted to participate in the ATMAE competition, they needed a robot that would fit the competition criteria.
"Luckily, ATMAE left it really open-ended with what teams could do this year," said Emily Baumgartner, Ph.D., assistant professor of manufacturing technology. "It had to be a robot that could perform a task, but beyond that, it was up to each team."  Dr. David Rouch, who retired at the end of fall semester, served as the advisor to the capstone team, and Baumgartner assisted upon his retirement. 
All four seniors wanted to undertake a sustainability project. Their ONU coursework, combined with their experiences in the Halderman Sustainability Lab, had piqued their interest in topics like alternative energy, ecological balance, and resource depletion.
The Covid-19 pandemic was still top of mind last spring. The teammates discussed how the pandemic had caused problems with food shortages and also an uptick in interest in home gardening. That's how they landed on the idea for a robotic greenhouse.
"Being able to grow your own food was something that became very popular during the pandemic, but not everyone has access to a yard or outdoor space, and not everyone has the time to devote to it," said capstone teammate Jonathan Eckstein.
In their poster presentation, the team noted that food supply chain issues will only become more severe in the coming decades. Their intent was to "seek out new ways to locally provide a sustainable and economical solution to better serve the food needs of our evolving population" with a "self-contained and self-sustaining plant growth system."
The team began work in mid-August and had just 10 weeks to design their concept, fabricate and resource parts, construct, program and test Robogro. And they still had to keep up with other responsibilities, including coursework, varsity athletics, and co-ops.
The four acquaintances became fast friends as they put in hundreds of hours—many of them in the wee morning hours—problem solving, planning and trouble shooting.
"Each team member brought different strengths to the project, from mechanical design to computer programming to farming experience," said Baumgartner.
While ONU provided a $500 budget, the team sought out corporate sponsorship for additional funding for parts and materials. Allied Machine & Engineering, Speed Waves Wireless Solutions and Freudenberg-Nok all provided assistance.
The seniors used recycled materials whenever possible, and also produced many of the parts using the 3-D printers and other equipment available in the Biggs Building labs.
"The most challenging part of the project for me was figuring out how to get the planter assembly to drop and bury the seeds correctly," said Eckstein. "We had to go through a few different designs and a lot of trial and error, but we were eventually able to come up with a design that worked."
In the end, Robogro, which measures 56" wide, 30" long and 63" tall, cost $2,000. The design was a CNC based dual axis eight row planter, and the CNC greenhouse robot could plant, monitor and feed an individual plot. When the team members tested their product by planting soybean seeds on a Friday, they were surprised and delighted to discover on Monday that the seeds had not only sprouted, but the plants had grown several inches tall.
"Our design focused around a small cell example that in theory could be scaled up for larger production, or be kept in a small cell for home-based crop production," said Zach Himes, capstone team member.
The capstone team encountered a new set of hurdles, however, when they took Robogro on the road for the ATMAE competition. Fitting it into the back of a trailer, wheeling it through a narrow hotel room door, and packing it safely to survive the bumpy I-75 journey from Ada to Louisville, presented new engineering challenges that they had to solve on-the-spot.
And, despite careful packing, Robogro did not survive the bumpy journey home.  
"We were blown away when we opened the trailer back at college to be presented with our robot that was now in a pile of a million pieces," said Sullivan.
The intrepid teammates, buoyed by their successful 2nd place overall showing with two 1st place category awards at the Louisville competition against much larger schools, spent some late nights rebuilding Robogro. They even incorporated upgrades. The award-winning Robogro is now on display in the Halderman Sustainability Lab in the Biggs Building.
"We are really proud of their success with this capstone," says Baumgartner. "It is one of the most efficient robots our students have ever built."
Capstone team member Owen Sullivan graduated from ONU in December and is now a universal final assembly technician at GROB Systems, Inc. Zach Himes also graduated in December is a sales engineer at Allied Machine & Engineering. Camden Spears and Jonathan Eckstein will graduate in May 2023 and both have job positions lined up.
This article is one of a series covering the topic of sustainability at Ohio Northern University.