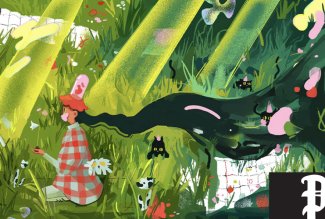 Ohio Northern University's literary magazine, Polaris, remains focused on the act of transportation. Not of the physical kind, but of the emotional and imaginative transporting we do when we experience something exceptionally creative. For 65 years, each volume has offered numerous excursions to the unknown while also providing valuable hands-on learning for the students who annually produce it.
 
In Polaris' 2022 issue, for instance, Monica Smallwood's nonfiction narrative, "The Pyre," firmly settles her readers into the conflicts of rural American teenage culture. "We'd seen this all before, the smug brawls and blackened eyes that went without consequence outside of the classroom. Most of us shook our heads passively in defeat at the latest immaturity that rumbled in front of us," she wrote.
 
Emmaline Grennan's poem "Ginger Ale," featured in volume 71 (2021), explains how this carbonated beverage helps counteract "the nausea and nothingness." The drink "distracts from the growling in my stomach that stems from those early ages of growing up in a household in which I was never taught to cope with anything," she revealed.
 
In Sophie L. Hernandez's "Loving me Again" painting, also printed in volume 71, a woman with long, wavy-brown hair wraps her arms around herself before a backdrop of colorful flowers. "As a queer, Mexican woman, and a proud feminist, I strongly believe in the importance of the arts and the prominent messages that can be conveyed in such creative ways," she explained. "My artwork mainly revolves around my identity as a woman and as someone who has experienced injustice because of my gender."
 
Polaris provides a supportive environment and professional foundation for those interested in persevering in the often-difficult and byzantine world of publishing. And, for many, it's the first to publish their work, making it additionally meaningful.
 
"This is a national and international literary magazine" that features undergraduate work, says Jennifer Pullen, Ph.D., Polaris advisor and assistant professor of creative writing/fiction. "It's an important part of the literary ecosystem and it's where a lot of people get their start." It's also one of the longest-running undergraduate literary magazines in the country, she adds.
 
In fact, Polaris is both a publication and a 1-credit practicum course at Ohio Northern. All English majors are required to take the course, which introduces them to publishing concepts.
 
Paid staff members, who are all students, often work for the magazine during their entire time on campus, Pullen says. They range from submission readers to editors to designers. The magazine accepts works of poetry, fiction, nonfiction and fine art for publication consideration. The submission time period opens in October and closes in February. Volume 73 will be available on May 10. Orders will be accepted through the magazine's website and copies can be purchased in person at Dukes Hall, Room 100.
 
"The idea that you can't get a job as an English major is a myth," says Pullen. "Students here choose this major. They just know they love words. Then they discover specific things, develop a big love for the craft, and realize there are different career avenues they can take."
 
"Something I hear a lot is that most English students want to be writers, but they're really scared to submit their work because they're afraid of rejection. It's never easy. On the other side of the coin, they find out that people here are respectful and considerate, and realize that rejection isn't personal. They get really great encouragement."
 
Other artists benefit from Polaris, too. Someone who wants to be a book designer, for instance, can learn from the magazine "how to make book a physical, beautiful object," Pullen explains. Skills development and improvement abound, as does camaraderie. Of the hundreds of submissions received, each bound and full-color volume includes a varied number of works each year; this year, 13 poems, five fiction pieces, five nonfiction stories and seven art images are featured.
 
"They discuss each piece. They build their aesthetic sensibilities. Sometimes they ask questions about details such as quote mark use. They can publish intense content and there are no trigger warnings used," says Pullen. "They must ask, 'Is it art?' 'Is it a good story?' 'What is this piece doing, what for, and is it effective?'"
 
Storm Matthews, a creative writing major from Van Wert, Ohio, says she thinks working as webmaster and co-editor on Polaris "will have played a huge role" if she achieves her goal of entering the publishing world after graduation and becoming a novelist. She gained an appreciation for the pressures of such work, noting that having a leadership role in a project that involves many people "means that if I slip up or fall behind, the effects of that ripple out to many people beyond me. I try to make sure I'm performing my best for them, but sometimes that can be a struggle when life outside of Polaris tries to get in the way," she notes.
 
Dakari Ward, a psychology major from Dayton, Ohio, who is minoring in creative writing, hopes to become a therapist and eventually create his own comic book, says it can be difficult "having to pick a select few (submissions) when you think all of them are wonderful in their own way."
 
Yet the positives outshine everything. What makes Polaris special is a multitude of attributes, Ward and Matthews maintain.
 
"The kindness and trust between faculty members" is paramount, says Ward. "I have a lot of trust in my team to give me their honest opinions on certain works so they can be judged well. And I also have a lot of trust in my fellow editors who help me learn the ropes along the way."
 
Polaris "stands out from other literary magazines in the industry" because of its focus on undergraduate work, says Matthews. "This creates a space to showcase the work of younger college students, something that can sometimes be overshadowed by writers who have been in the game for much longer (such as pursuers of masters and doctorate degrees). It's an amazing opportunity for ONU students to be so deeply involved with a national-level magazine at this stage of higher education. Polaris is a rare experience in publishing that's not likely to be offered to students our age anywhere else."
 
Allison Young, BA '21, had read fiction submissions and served as the poetry editor on Polaris. The "ominous, ever-approaching" deadlines could be challenging, she says, but "working on Polaris made me a better reader, a better leader, and a better team member. I cannot say enough wonderful things about the poetry team I worked with for my final two years," she continued. "That group was such a highlight of Polaris for me because everyone collaborated and challenged each other in ways that really strengthened our selection process, while also having so much fun engaging with the submissions and each other."
 
Young used that undergraduate publication experience to become a production assistant for Detroit, Michigan-based Subterranean Press, a publishing company that specializes in fantasy, science fiction and horror fiction. She helps to guide books through the entire publishing process, from digital file to bound book; her primary responsibility is editing text.
 
Along with the perks of getting free books and reading them before they're published, Young says she loves being a part of the behind-the-scenes, transformative process that allows authors and artists to realize their dreams. "I love stories and storytelling, and so I feel very grateful to be working at a job where I get to contribute to creating a book for someone to enjoy," she says.