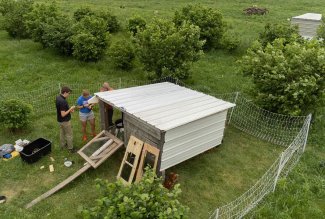 Farm project tests the ingenuity and career readiness of five engineering seniors
In three years of engineering courses at Ohio Northern University, Anne Major's professors continually stressed the importance of seeing things firsthand. And then, one pleasant fall evening her senior year, sitting on a lawn chair in the middle of a farm field watching chickens enter a coop at sunset, Major got it. Because, quite frankly, the chickens weren't behaving at all how she'd expected.
Major was observing chicken behavior for her senior engineering capstone project. Her team was tasked with designing, building and installing two automated chicken coop doors for Little Riley Creek Farm, a 40-acre organic farm in Bluffton, Ohio, owned by Amanda Wischmeyer and Jon Tuttle.
Instead of the orderly line of chickens marching into the coop that Major had imagined, "the chickens were acting a bit crazy, and clearly had a mind of their own," she said. Some chickens turned around at the doorway and headed back outside, others were cutting in line, still others straggled behind to catch the last rays of light.
"Suddenly, what my professors had been telling us made sense," she said. "There's a big difference between what you imagine or what someone describes to you and actually seeing it for yourself."
Northern Farming Solutions
In the realm of engineering capstones, the chicken coop project didn't fit the mold of the buttoned-down, corporate variety, said Dr. Ziad Youssfi, associate professor of electrical and computer engineering and the team's advisor. In fact, the team's client meetings took place on the farm where the students, much to their delight, were greeted by farm dogs Panda and Tippy, donkeys, goats, cats, and of course, lots of chickens.
The atypical nature of the project is precisely what appealed to the five students who formed the multidisciplinary and female-strong Northern Farming Solutions. The capstone team consisted of Major, electrical engineering; Mallory Sommer and Joe O'Connell, both mechanical engineering; Lydia Cranmer, computer science engineering; and Will Sierzputowski, engineering education. Of the five, only Sommer had any previous knowledge of a working farm.
"I'm a huge animal lover, which is probably the number one reason why I chose this project," says Sommer. "And I also enjoy being around down-to-earth people."
Wischmeyer, Tuttle and their children epitomize down-to-earth people: welcoming, practical, hardworking, and grateful for the help. The more the capstone team members got to know them, the more vested each became in creating an effective solution for their farm.
 "We knew we had the opportunity to make a big impact on these people's lives. In a way, that made the project more stressful," said Sierzputowski.  "I think we all felt a special connection to our clients. We gained a lot of respect for the hard work that goes into running a small farm and we were just impressed by what they were trying to do."
Little Riley Creek Farm
Wischmeyer and Tuttle bought Little Riley Creek Farm in 2015. At a time when small family farms are disappearing, gobbled up by big agriculture, they are committed to keeping the 40-acres intact as a working, organic farm that benefits the local community.
Tuttle, an engineer at Procter & Gamble, the couple's three children, ages 14, 12, and 8, and Wischmeyer's father, all help with the farm. But Wischmeyer manages farm operations and the bulk of the work herself. She took a giant leap of faith six years ago when she changed her career from landscape designer to female entrepreneur/organic farmer, but she's never looked back. "It was the best decision of my life," she says.
In addition to producing organic eggs, Little Riley Creek Farm breeds and sells goats and grows organic corn and a heritage variety of wheat. The farm also operates as a CSA (Community Supported Agriculture) with approximately 25 shares. Every week during the growing season, the families who purchase a share can visit the farm for a box of homegrown veggies and fresh-cut flowers.
Running a small farm is no small task. While large farm operations rely on high-priced farm equipment, Wischmeyer relies on resourcefulness and efficiency. "It's an all-hands-on-deck operation," she explains, "and it requires a tremendous amount of physical labor."
The workload is what prompted Wischmeyer and Tuttle, who are friends with Youssfi, to have several conversations with him about the great need for engineered automation solutions on small farms like theirs. When they presented him with their chicken problem, a lightbulb went off in his head. He knew it would be the ideal real-world challenge to test the ingenuity and career readiness of ONU senior engineering students.
The Chicken Problem
Approximately 70 chickens live on Little Riley Creek Farm and contribute to the farm's profitability. However, keeping the chickens safe is an onerous chore that negatively impacts the entire family's quality of life, explained Wischmeyer.
At sunset and at the crack of dawn, 365 days a year, in rain, snow, sleet or shine, someone has to walk nearly a quarter of a mile from the farmhouse to the chicken coops to let the chickens in and out.
If not securely closed in at night, the chickens could be killed by one of the many nocturnal predators who roam the farm, including foxes, raccoons, weasels and minks. If not let out first thing in the morning, the chickens could go stir crazy, pecking and harming one another--hence the origins of the terms "cooped up" and "henpecked."
Needless to say, it's a dreaded chore, especially on cold winter mornings. Since college students aren't known for being early risers, the capstone team members could totally relate to the family's dilemma. "Maybe it's crappy weather or maybe you just don't want to get up at 5 a.m.," said Major.
Wischmeyer and Tuttle dreamed of chicken coop doors that could be controlled remotely, but they had limited time and resources on their end. "Small farms are filled with half-finished projects," laughed Wischmeyer. They knew ONU's engineering school had an outstanding reputation, so they were thrilled to have a team of innovative students working on their problem. For the capstone team, turning this dream into a reality was a 10-month educational odyssey.
Engineering a Chicken Solution
At the start of the fall semester, the capstone team spent time on the farm observing chicken behavior, examining the construction and function of the two coops and coop doors, and asking lots of questions of Wischmeyer and Tuttle. They also researched existing products in the marketplace. In the process of information gathering, they discovered problems and limitations that they wanted to address with their custom solution.
First, they determined that they wanted to create a flexible, long-lasting product that could be easily maintained. "We didn't want a system that couldn't be modified or moved if they ever rebuilt or upgraded their coops," said Major.
Also, they wanted to give the family some enhanced features, including the ability to keep track of how many chickens were inside or outside the coop and to monitor and operate the doors from any remote location using a smartphone.
Safety and security became top priorities, especially after the team uncovered a grisly problem with some current products that closed from the top down, acting as a chicken guillotine to any unlucky chicken who fell asleep in the doorway. "We didn't want to be responsible for killing any chickens," said Sierzputowski.
The team also needed to problem-solve a solution to no electricity or wi-fi. Due to organic farming regulations, the coops had to be frequently moved and were often located far from an electric power source. And finally, they had to accomplish their project with a small budget of $500 for materials.
Learning About Teamwork
The project required a diverse skill set, said Youssfi, which is why a multidisciplinary team proved effective. From door mechanics to computer software programming to power sourcing, each team member tackled a specific problem related to their area of expertise, while collaborating to make sure all the parts worked together.
The students learned how to divide responsibilities, communicate effectively, work as a team, and meet client expectations. "These are intangible skills that are hard to grade, yet they are just as important as anything else," noted Youssfi.
The team's makeup--three of the five students were female engineers--added to its diversity. "When I first saw who was in my group, I was like 'wow, we actually outnumber the guys on this one!'" said Sommer.
As a female engineering student, Sommer found it inspirational to work with a female entrepreneur running a small farm. She had engaged in co-ops in the manufacturing industry and didn't enjoy the static nature of working in a cubicle. At Little Riley Creek Farm, she discovered an active career and lifestyle that appealed to her. "I just loved the environment," she said. "It helped give me a picture of what I might like to do."
The students struggled at times to coordinate their busy schedules, which were more complicated than ever due to Covid-19. Yet Northern Farming Solutions ended up being one of the smoothest capstone teams he's ever advised, says Youssfi. "Right from the beginning I could tell they were humming right along. There were no gaps and they worked together very well. I think that speaks to the fact that diversity is good."
The Chicken Solution
The end of May, the capstone team's hard work came to fruition when they installed their project at Little Riley Creek Farm and handed the controls over to Wischmeyer and Tuttle.
While simple and effective, their custom solution has just enough bells and whistles to set it apart from other products on the marketplace. Using a smartphone or computer, the family can remotely control the coop doors from any location on or off the farm. A simple interface allows them to monitor the number of chickens inside and outside the coops and to set a specific time of day for the doors to open and close. A security feature alerts them when/if there is a failure in door operations.
On each coop, the door slides across the coop opening on a track fitted on the top and bottom of the door frame. The door is powered by a linear actuator that receives a signal from a small microcontroller placed on top of the coop. The microcontroller is powered by a drill battery that Amanda and Jon can easily recharge in their barn. Strategically placed antennas ensure that Wi-fi reaches every corner of the farm where the coops may be positioned.
Each coop's door frame is also outfitted with monitoring sensors that detect movement in and out. "They are like the lasers you see in spy movies," said Major. These sensors count the number of chickens entering and exiting the coops. Importantly, they also detect if a chicken or any other object is blocking the doorway. If that's the case, the family will receive an error message and that coop's door will not close.
According to Major, the team's biggest concern was accidently harming a chicken. So the team made sure that the doors operate loudly and slowly--it takes about 10 seconds for them to fully open or close--and they added motion detection sensors. "The system double and triple checks," said Major.
Project Conclusion
Wischmeyer is appreciative of the hard work and innovation of the ONU engineering students. They've eased her workload and given her and her family some measure of freedom back. This summer, she can't wait to go out to eat with friends and not have to rush back to the farm at dusk to close the coop doors. And when cold weather arrives again, she will stay cozily tucked under the covers a little while longer in the mornings.
Not having been around college students since she was in college, Wischmeyer says their enthusiasm was contagious. "I was so impressed by their energy, politeness and aim to please," she says. "It was an amazing experience."
She hopes the capstone project opened the students' eyes to a different avenue where they can apply their engineering expertise. Small farmers may not have big pockets, she says, but collectively there is a big market for automated solutions for small agriculture.
And while their farm adventure has ended, the student team members have learned invaluable lessons--like the importance of seeing things firsthand--that they'll take with them to their first jobs. Most importantly, they've learned the satisfaction that comes with helping others. "Many engineering capstone projects aren't actually used," said Sierzputowski. "This was a really interesting project and I'm excited that it will actually be used and make a difference."
"We just hope it makes their lives a little bit easier," added Major.