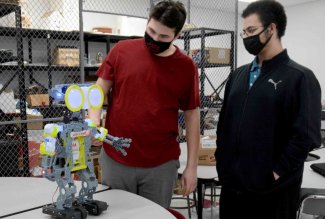 Ohio Northern University has been awarded a $10,000 grant from the PPG Foundation on behalf of its coatings services facility located in Lima, Ohio. The funds will support the ONU College of Engineering's STEM (Science, Technology, Engineering and Math) activities with students from Lima Senior High School.
With the grant funding, ONU's engineering and computer science professors and students will provide interactive educational STEM experiences to students in the Engineering and Technology Program at Lima Senior. The Engineering Technology Program is one of Lima Senior's 11 Career and Technical Education offerings.
As part of the planned activities, ONU students will serve as advisors to the high school robotics competition and the STEM Club, and use grant funds to help purchase supplies to enrich high school students' experience with robotics.  Additionally, four professors will each deliver an interactive lecture to select Lima Senior High classes on their respective fields of study, which will include insight on how their work pertains to the world of engineering and how it translates to everyday life.  Also, ONU students will supervise a hands-on laboratory activity for high school freshman and/or sophomores that will resemble a science experiment.
Virtual learning plans are in place if pandemic restrictions prohibit in-person instruction.
These activities aim to generate more interest in the in-demand STEM fields among high school students, particularly within underrepresented groups, and to provide ONU students with experiential and service-oriented learning opportunities.
"Our goal is to build a true partnership that benefits high school students by providing positive exposure to engineering and STEM fields," says JD Yoder, dean of ONU's College of Engineering. "The PPG Foundation has stated its desire to help young people envision a future in a STEM-related career. We know that ONU students will also grow professionally from the experience. Also, we look forward to the relationships that will be established and strengthened between faculty and staff at our respective institutions."
PPG: WE PROTECT AND BEAUTIFY THE WORLD™
At PPG (NYSE:PPG), we work every day to develop and deliver the paints, coatings and specialty materials that our customers have trusted for more than 135 years. Through dedication and creativity, we solve our customers' biggest challenges, collaborating closely to find the right path forward. With headquarters in Pittsburgh, we operate and innovate in more than 70 countries and reported net sales of $13.8 billion in 2020. We serve customers in construction, consumer products, industrial and transportation markets and aftermarkets. To learn more, visit www.ppg.com. 
We protect and beautify the world is a trademark and the PPG Logo is a registered trademark of PPG Industries Ohio, Inc.