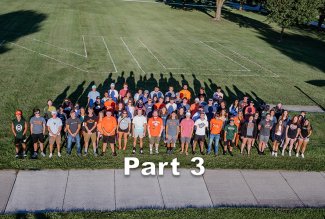 The Meyer family is an ONU Legacy.
Jay and Heidi Meyer discovered genuine relationships at ONU, and now two of their children are in search of the same. Both entered ONU this fall. Zoe is a transfer student in the new 4-year PharmD program and Keegan is a first-year business student. 
Zoe explains why she chose ONU: "Growing up, ONU felt like a magical wonderland where best friends and soulmates appear. My parents had such beautiful stories to tell about their relationship and the friendships they forged at Northern. In fact, their best friends during their time at ONU are my godparents and they have been present my entire life. My parents portrayed ONU as a place of self discovery and trial and error. They both learned about themselves in deep and engaging ways as they explored the people and activities on campus."
The Honorable Jay Meyer, BSBA '93, JD '96, is a Seneca County juvenile and probate judge and Heidi (Fleck) Meyer, BSPh '95 is a pharmacist for Mercy Health. These Tiffin, Ohio residents couldn't be prouder that their children are fourth-generation Polar Bears, continuing a family tradition that dates back to the Great Depression. 
Jay says: "My kids grew up hearing about ONU from the stories of their great grandparents and firsthand accounts from their grandparents and parents. To Northern's credit, all of the family stories and accounts were positive and life changing. For my part, ONU is where I grew up, where I met my bride, and where I was equipped personally, spiritually and professionally to face the world."
The Haack family is an ONU Legacy.
Dawn (Finfrock) Haack, BSPh '94, studied pharmacy at ONU in the 1990s because she liked the "size of the campus, the opportunities to get involved early, and not competing, but instead studying and working with your peers." Her daughter Caitlin, a third-year pharmacy student, chose ONU and the Raabe College of Pharmacy's 0-6 direct entry program for the exact same reasons.
Dawn's favorite place on campus is the Tundra; she fondly remembers the rockin' fun of "Tunes on the Tundra." Caitlin loves the tranquil bridge over the pond behind the freshmen dorms, where she and her friends like to hang out and feed the fish.
Caitlin says: "It's special when I hear about all my mom's memories about what has changed (at ONU), but also what is still the same. I like to think about how I am in her shoes and possibly sitting in the same seat in a lecture hall that she did 31 years ago."
Dawn, who is a consultant pharmacist for Remedi SeniorCare in Troy, Ohio, is thrilled that Caitlin is not only attending her alma mater, but following in her career path as well. "My greatest hope for Caitlin is that she is happy while learning how to be a great pharmacist in the classroom and also enjoying her time outside the classroom with friends."
The Utterdyke family is an ONU Legacy.
When asked to use just three words to describe ONU, Meghan Utterdyke and her parents selected one word in common: "community."
A fourth-year pharmacy student, Meghan says: "I believe that each of us was drawn to ONU because of the close community on campus and the strong education the university provides." 
She and her dad also share a love for the windswept Tundra, while her mom's favorite spot on campus is the pharmacy building. Attending the same university that her parents attended–and where they also met and fell in love–is special, adds Meghan. "Being away from home was hard at first, but knowing my parents once attended the same university gave me a strange sort of comfort. I am also able to connect with them over some of the shared experiences we've had, despite being 30 years apart."
Residents of Lebanon, Ohio, Steven Utterdyke, BSME '92, is a senior engineering consultant for ITI Wipro, while Jennifer (Caputo) Utterdyke, BSPh '92, is the Medicaid quality portfolio director for pharmacy for Elevance Health (formerly Anthem insurance). Jennifer says: "My greatest hope for Meghan's ONU experience is that it not only makes her a caring and competent pharmacist and strong leader, but also a better individual who understands the importance of community and helping one's neighbor. I can definitely see that my hope is coming true with each year she attends."