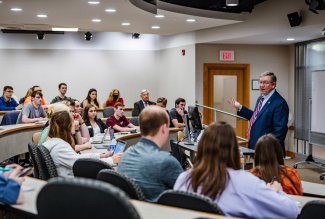 Ohio Northern University political science students received some sound career advice from a "Double Bear" graduate whose career has spanned the political, judicial and teaching realms. Ohio House of Representatives Speaker Robert R. "Bob" Cupp, who has served as a county commissioner, state senator, state court of appeals judge, Ohio Supreme Court justice, city prosecutor, chief legal counsel to the Ohio auditor, and visiting professor at ONU, told students to be assertive when it comes to their own job aspirations. Here are eight of his tips for success:
·      Consider various options. A myriad of exciting careers await political science majors, and not all of them involve serving in an elected capacity.
·      Listen to others. Their opinions and knowledge will provide more context for one's own decision-making endeavors.
·      Work at your goals. "The harder you work, the more likely you are to succeed," Cupp says.
·      When the time is right, go for it. "I had to step out of my comfort zone a lot. Good things can happen if you do," says Cupp.
·      Be persistent. If you don't initially succeed at something, keep trying. Attitudes and outlooks can and do change for myriad reasons, which means subsequent attempts might enable you to reach your goal.
·      Consider the inherent complexity of matters that, on the surface, may seem simple. Cupp said being elected to public office for different roles helped him better understand the nuances and behind-the-scenes evolution of several issues.
·      Show up. "Being there makes a difference," says Cupp. Having a presence and a consistent voice in deliberations and decisions lets others know that you're engaged and committed.
·      Asking makes a difference. "I'm a bit of a shy guy, especially when I was younger, so asking was kind of hard for me. Even if you get turned down, you'll learn something that will help you be more effective later," Cupp says.