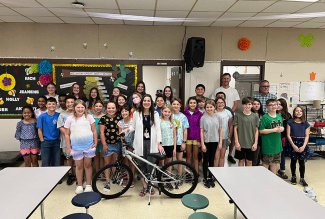 As STEM educators everywhere seek ways to make math and physics accessible to young learners, a special project at Ohio Northern University turned to a child's wheeled buddy—the bicycle—to teach elementary-school students about concepts like leverage and rotational inertia.
The Dorr Elementary Bike Project, a student-faculty special study project in the T.J. Smull College of Engineering, provided 27 fourth and fifth grade students from Dorr Elementary School in Toledo, Ohio, with a comprehensive course designed to teach riding skills, bicycle maintenance and adjustment, and the scientific principles that keep a rider upright and on the go.
"A bicycle is a great visual model for demonstrating a number of STEM-related topics," says Dr. Todd France, associate professor of engineering education and project leader. "From simple machines like levers to more complex concepts like gear ratios and the relationship between circumference and linear distance, bicycling is an ideal entry point for kids to begin to
understand physics."
A bicycle in motion is a masterclass of basic physics that relies on principles like the angular momentum (gyroscopic effect) and velocity to remain upright. If you ever wondered why it's more difficult to balance a bicycle at slow speeds than it is when you are pedaling hard, angular momentum is the answer. When the front tire spins, it acts like a gyroscope that creates vertical momentum. The faster it spins, the stronger the pull, and therefore, the less steering the rider must do to compensate for gravity. Factor in geometry and bicycle designers can manipulate these effects to affect performance in different areas like speed or stability.
According to France, understanding how and why a bicycle works the way it does can help children become better riders and therefore, safer on the streets. Bicycle safety was a major part of the Dorr Elementary Bike Project, with sessions in each of the four 75-minute after-school workshops dedicated to it. Along with a bicycle, each student was provided with a bicycle helmet and instructed how to properly fit it for maximum protection. Additional lessons on bicycle maintenance and adjustments ensured that riders understood all aspects of riding safely. Local police officers even stopped by to teach the "rules of the road."
"This project was very well received by the broader community in that it brought together a wide range of participants beyond just the students," says France. "High school students from the National Honor Society helped install kickstands on the bikes, and volunteers from Toledo Bikes! were our maintenance experts. Additionally, we had interest from school administrators and staff, and even local businesses."
Community outreach has become more and more commonplace in the Smull College of Engineering in recent years, but it also has a long history. For many years, ONU engineers have engaged in EPICS (Engineering Projects in Community Service), which brings engineering expertise out of the classroom to aid local individuals or non-profit organizations.
"The College of Engineering at ONU is committed to working in various ways to help more students have an interest in STEM," says Dr. John-David Yoder, dean of the College of Engineering. "We are pleased that other organizations are pleased to partner with us on these efforts, which allows us to have a real impact in the lives of young people, and in some cases inspiring them to pursue studies in STEM."
The Dorr Elementary Bicycle Project was funded by the DeBow Freed Student-Faculty Special Study Project Award ($1,699), an Ohio STEM Learning Network STEM Classroom Grant ($5,000), an Ohio Space Grant Consortium award ($2,500) and bicycle helmets were provided at no cost by the Ohio Department of Transportation.