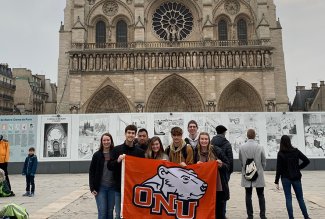 ONU students explore battle sites in Western Europe as war rages in Ukraine.
Not long after Russian forces invaded Ukraine, a contingent of Ohio Northern University students studying the history of the world wars traveled to northern France and Belgium. Their 10-day spring break trip provided them with greater perspective on how military battles have a lasting impact on the local populace and landscapes and how current conflicts can echo certain aspects of wars waged long ago.
Led by David Strittmatter, assistant professor of history, 27 students and four faculty members ventured to regions where the two catastrophic world wars precipitated key battles that reshaped Europe. The trip was the signature experiential learning activity of a history course that is focusing on memory. As they visited sites such as Omaha Beach and Museum of the Surrender (from Western Front forts to Omaha Beach), participants took particular note of how World Wars I and II are recalled, memorialized and contextualized by those who live there.
"This part of Europe provides a fascinating case study in how people remember conflict, how they mourn collectively, how they shape identity and how they profit commercially," says Strittmatter. 
The group also saw how the land in many areas remains marred. "The physical landscape is still coping with the ravages of those wars," Strittmatter notes. "There are signs all over telling you not to wander away because there could be unexploded ordinances. There are still about 40 square miles in France that are surrounded by chain link fence where the soil is still poisoned by arsenic, chlorine and ordinance material."
Visits to places such as Paris and Ypres evidenced western Europe's beauty, resiliency and durability in urban and rural settings. Iconic sites such as the Eiffel Tower and Notre-Dame Cathedral, still undergoing renovations from the 2019 fire, were seen. Students and faculty were able to have a stratified experience that also included enjoying classic French and Belgian cuisine, an evening Seine River cruise, a visit to the Holocaust Memorial, hearing the chimes while visiting the American portion of the Colleville-sur-Mer cemetery in Normandy and standing in the trenches at Vimy Ridge, which is now a memorial dedicated to the many Canadian soldiers who died during WWI.
At the Tomb of the Unknown Soldier, located at the Arc de Triomphe, several students took part in one of the evening torch rekindling ceremonies by laying flowers at the site. Strittmatter was selected to actually rekindle the flame and greet the French veterans who had come to observe the ceremony. Other students helped escort a poppy wreath during the daily ceremony at the Caen Memorial (Menin Gate) in Ypres, one of four memorials that honor the missing in Belgian Flanders battles. History major Jarrod Jones read the exhortation, a poem titled "For the Fallen," written by Laurence Binyon and first published in 1914.
Meanwhile, in Eastern Europe, more than 100,000 Ukrainian civilians were evacuating the country as fighting intensified near Kyiv. Strittmatter retweeted a past-meets-present post by a journalist that showed the Ukrainians had used a WW II tank trap from a museum as a roadblock against Russian troops.
Pharmacy student Leah Carnegie says some of her relatives were concerned about her safety on the trip, given the situation in Ukraine, but "it did not bother me," she admits. She did, however, have a heightened awareness of how the past was informing the present.
"While I was at the different battle sites, I was able to have a greater sense of how much damage was actually done," Carnegie says. "This allowed me to realize to what extent of damage people were worried about. I was able to have a new sense of consideration for those who are over in Ukraine. It also felt more real because our tour guide was from Poland and her parents were taking in fugitive children who were running from Ukraine."
The world wars' still-evident physical damage came as a surprise to Carnegie. Learning about such information from afar is far different and less resonant than observing it in person, she notes. 
"The most meaningful thing I did (on the trip) was get to see the beaches of Normandy," Carnegie says. "Every history class that I have had brings them up, but it's hard to fathom what they looked like, especially Pointe du Hoc," a 100-foot cliff overlooking the English Channel that was fortified by Germans. In the early hours of D-Day, U.S. Army Rangers scaled the cliff and captured bunkers while under heavy fire.
"I was also unaware of how the trenches (at Vimy Ridge) got there, so finding out that there were engineers that made sure that the trenches were made correctly fascinated me. I didn't realize that many different backgrounds of people were involved," Carnegie continues.
Also impressive to Carnegie: the size and architecture of the cathedrals. "Every cathedral had a different story to tell with its architecture and it was fun to determine what the architect was getting at."
Carnegie says she had participated in a mission trip to the Philippines in 2019, and her mother went on a trip to France with high school students, which further sparked her interest in this journey. She expected to be, and was, dazzled by Paris, but visits outside of the city also left an indelible impression. Strittmatter said that was also the case for others. 
"I was surprised by how much the students enjoyed the smaller towns," Strittmatter says, and it further reinforced his belief that learning about historic events by traveling to where they actually took place offers the most enriching experiences.