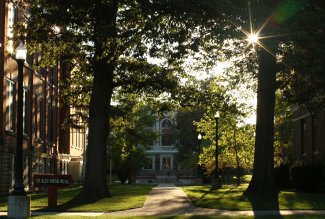 Topics such as climate change, cultural politics, and teacher evaluation comments presented deep research dives this summer for several Ohio Northern University College of Arts & Sciences undergraduates and professors.
 
Polar SURF (Summer Undergraduate Research Fellowships) is an innovative ONU program that offers summer research opportunities for students interested in in-depth academic exploration begun by professors and scaled to students' capabilities. Resulting were seven projects, ranging in focus from the sciences to the humanities, that introduced students to formal research methods typically reserved for graduate school studies.
 
According to Brad Wile, Ph.D., associate dean for faculty affairs and chemistry professor, Polar SURF provides a shorter summer experience for capable students and committed professors compared to externally funded experiences like National Science Foundation research experiences for undergraduates (REU) program. Funded with endowed College support, Polar SURF also opens the field to disciplines beyond science. This past summer featured projects in areas such as communications, political science, toxicology, art and ethics.
 
Wile said SURF allows students to extrapolate from professors' research ideas and existing work and run with those, with faculty guidance. In some cases, students are required to produce a formal research paper on their findings. Publication in professional journals is a possibility for some projects.
 
"The diversity of approaches that we've seen these students and faculty take over the summer has been great," Wile said.
 
Three Summer Polar SURF 2023 projects are highlighted below.
 
Automating Identification of Toxic Student Evaluations
 
Koen Suzelis and Gabriel Mott worked with John Curiel, Ph.D., assistant professor of political science, to develop a solution to unhelpful toxic comments that students contribute to professor evaluations. While studies have shown the most negative comments, such as those that are racist, are typically not as prevalent as neutral or positive constructive input that instructors can use to improve their teaching, they still have an outsized impact.
 
"Mostly students with strong feelings tend to write comments," the three wrote in their paper's abstract. "Among the most recallable are toxic comments, comments that are unhelpful/hurtful in harassment, outrage, or personal attacks. These in turn demoralize professors while unduly influencing administrator hiring/firing decisions." They "act as a potent 'poison pill' for many faculty across universities."
 
"To date, cost constraints prevent universities from systematically identifying and quarantining toxic comments," they continued.
 
Suzelis, Mott, and Curiel created an automated "machine learning" tool that rather effectively and affordably flags nonproductive toxic comments in student evaluations. They collected hundreds of evaluations from ONU, Ohio State University, and University of North Carolina at Chapel Hill, and divided them into three categories: outrage, personal attacks, and prejudicial and bigoted comments. The paper also addresses reframing evaluation questions.
 
Their method, which incorporates artificial intelligence, seeks to consistently, efficiently, and affordably flag toxic comments and excise "those that would unduly bias university administrators against faculty while at the same time allowing for comments with the potential to offer meaningful feedback to remain," they wrote.
 
Resulting is a tool that any school or individual educator will be able to use, and one that potentially could have multiple uses for any organization wanting to aggregate and isolate other written content.
 
Scrutinizing a Super Bowl Ad
 
The "He Gets Us" ad campaign, which first ran during the January 2023 Super Bowl, resulted in an intriguing research project for Devin Gelbrand and Megan Wood, Ph.D., assistant professor of communication and culture. Launched in 2022 by Christian philanthropy foundation The Signatry, the $100 million marketing campaign intends to overcome ideological divides by encouraging people to find commonality with Jesus.
 
The group's publicity approach describes Jesus as one of "radical forgiveness, compassion, and love," and portrays him as an immigrant, a refugee, a feminist, and a radical activist, explain Gelband and Wood in their research paper. Yet, they note, skeptics point out that some heavyweight behind-the scenes donors and the campaign's parent foundation "have strong ties to conservative political projects and far-right ideologies that appear at odds with the campaign's inclusive messaging."
 
Gelband and Wood's research explores the media and cultural politics of the "He Gets Us" campaign, going beyond the common "culture-war" frame to investigate how the campaign's use of the "third way" rhetoric illuminates a contextually-significant set of tensions within the relationship between evangelical Christianity and the right-wing of U.S. politics.
 
Historical context and precedent undergird their hypothesis, which posits the campaign "is an effort to solve American Christianity's growing image problem with business savvy by relativizing and obscuring political differences to draw popular support while its benefactors fund candidates and polities that re-entrench those political divides and further decimate the rights of Americans." The two use a methodological approach called articulation, drawn from cultural studies, which helps researchers explore the relationship between a cultural phenomenon like the ad campaign and the social, economic, and political context of its production and reception.
 
Gelband's and Wood's mutual interest in the study of popular culture helped them pinpoint a collaborative research project. "We had a very lively conversation about this Super Bowl campaign, which had just aired at the time," Wood said. "Devin plans to parlay this project into another unique research question he will take on for his senior capstone this semester."
 
Climate Change and Politics
 
Mott also conducted an interdisciplinary analysis of environmental rhetoric in State of the Union addresses. Forrest Clingerman, Ph.D., religion and philosophy professor and Honors Program director, suggested Mott undertake a SURF project and "I was immediately interested," Mott said.
 
"I used basic numeric analysis, political theory, and linguistic theory to investigate why presidents say the things they do, especially in the context of the State of the Union," Mott explained.
 
"I've found that presidents tend to discuss the environment more overall over time, but their normative arguments are extremely varied. Overall, Democrats discussed the environment more with more noticeable tonal characteristics," he concluded.
 
Mott, who is wrapping up his research, said the project has been enjoyable. "The greatest difficulty I've felt is trying to find direction for my project over the summer months we weren't in person, but the faculty members were all very helpful and supportive," he said. "I've worked with a lot of new methods (humanities) that were interesting and challenging to adapt to relative to my usual practices, which are much more logically analytical."
 
Mott hopes to publish his work in an undergraduate journal.
 
Polar SURF is a great opportunity to experiment with interdisciplinary questions in humanities research, said Clingerman. Working with faculty members Clingerman, Jonathan Spelman, associate professor of philosophy, and Emily Jay, BFA '10, adjunct art professor, there was a collaborative group that fostered Mott's work and the work of three other undergraduates — Margaret Kurtz, who conducted an analysis on local church's views on climate change; Madeline Alexander, who studied the ethics of activism; and Aubrey Davis, who used locally-sourced materials such as clay to examine environmental sustainability using artistic expression. Such an approach presents students with a broader context and multiple perspectives with which to investigate and formulate responses.
 
Polar SURF's flexibility also allows students to still work during the summer while "having this opportunity to do something really unique," Clingerman said.